The 2 Reasons Why Ant-Man Isn't In Avengers 2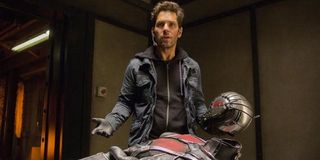 While the upcoming Marvel mega-movie sequel, Avengers: Age of Ultron looks to expand the comic book-inspired breadth of the Marvel Cinematic Universe even further, it has been known for some time that one critical aspect of the adaptation will be altered: Namely the comic-book-critical role that Ant-Man was supposed to play in relation to the film's titular antagonist. It's an alteration that, for many comic book purists, seems perplexing and unforgivable. However, writer/director, Joss Whedon has recently revealed his reasons for the canonical change and hopes that all of you will understand.
In a rather in-depth interview with Empire, Whedon discusses several aspects of what inspired him thematically with Age of Ultron. However, the lengthy sit-down would conclude by focusing on the rather controversial change to the origin of the villainous A.I., Ultron. Fans of the classic comic book canon will eagerly tell you that THE most critical aspect of Ultron's character at its very core, was the Freud-inspired oedipal hatred that he possessed for his "father," or, in his case, creator, Hank Pym, aka Ant-Man. AOU has changed things so that Tony Stark/Iron Man will play that role in Ultron's genesis. As Whedon states on the first reason the change was made:
Additionally, Whedon cites a second major reason for Ultron's retroactive continuity origin; namely the potential disruption Ant-Man's presence would have had on the chemistry between the famed "Science Bros" of Tony Stark and Bruce Banner. As Whedon explains:
It does seem that the Hank Pym dilemma was sort of a no-win situation for Whedon when it came time to hunker down on the Age of Ultron script. Clearly, in regards to signature, iconic Avengers villains, Ultron was the most essential to bring into the MCU for the super-sequel. Unfortunately, the critical groundwork that would have been laid for Ultron in the Ant-Man project originally set several years ago to be helmed by Edgar Wright would never see the light of day, forcing Whedon to improvise. Now, by the time the current Peyton Reed-directed Ant-Man grows its way to theaters this summer, Age of Ultron will already be a two-month-old movie.
Yet, Whedon seems to have made peace with the creative concession that he was seemingly forced to make. His desire to clarify that it WAS, in fact, a concession seemed to be very important. However, from what began as compromise, may have serendipitously spawned something better. His initial desire to stick to the source material could still manifest itself in some other indirect way. In fact, things seem to be lined up in the continuity which would have Michael Douglas' Hank Pym become a pivotal character in the MCU continuity.
We already know that the older "movie Pym" developed the protean technology which facilitates Ant-Man's shrinking/growth abilities. However, rumored connections pointing Pym to the early days of S.H.I.E.L.D. could leave the canonical backdoor open to make it be the case in AOU that Tony Stark creates Ultron based on nascent artificial intelligence technology originally developed by Pym! Such an idea would be a brilliant nod to the original comics and serve as a nice gesture to place at the often-critical altar of purism. As a fan, I think that this would be the cure for the continuity OCD through which many would have to suffer. Let's hope it happens.
Avengers: Age of Ultron looks to tear you apart from the inside…with joy when it hits theaters on May 1. However, Ant-Man will not be far behind when he sneaks his way to theaters on July 17.
Your Daily Blend of Entertainment News