22 Jump Street's Official Synopsis Teases Trouble For Schmidt And Jenko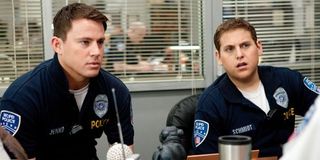 Jenko and Schmidt are returning to theaters for another adventure of undercover cops busting students. But in the improbably named 22 Jump Street, they graduate (metaphorically) from high school to college. As the official synopsis for this hotly anticipated sequel teases, it looks like Schmidt and Jenko's partnership will be put to the test as the two find themselves headed in different directions during their assignment:
Remember when we were all sneering at the idea of a 21 Jump Street movie? 'I mean come on!' We cried, 'a movie reboot of a TV series from the '80s? Get a new idea, Hollywood!' We were cynical. We were ready to be unimpressed. And then we found out just how misplaced our pre-emptive smugness was because the Jonah Hill/Channing Tatum vehicle was shockingly hysterical.
Critics raved. Tatum's star was on the rise, and audiences turned out in force, netting this R-rated action-comedy an astounding $201 million worldwide. (By comparison, another R-rated action comedy that was deemed a major hit this summer was Paul Feig's Sandra Bullock/Melissa McCarthy buddy cop feature The Heat. It made $229 million, and that's with a world beloved Oscar winner fronting it.)
With this kind of success, we were pretty unsurprised when a sequel was announced. Being based on a television show, the concept was obviously rich for new adventures. And the team of Hill and Tatum was clearly worth re-teaming. As before, screenwriter Michael Bacall has crafted the story with Hill. But this time he's gotten some help in drafting the script from Rodney Rothman (Grudge Match) and Oren Uziel, whose penned the upcoming Kitchen Sink. Phil Lord and Chris Miller have returned to helm, and along with Tatum and Hill, Ice Cube will be reprising his role as the ornery Captain Dickson.
New to the cast are Amber Stevens as Hill's new love interest (what happened to Brie Larson's Molly?), Workaholics' Jillian Bell as her goody two-shoes roommate, and Submarine's Craig Roberts as a mysterious character named Spencer.
We got a sort-of first look to this kooky sequel last month when Channing Tatum released a parody of that mind-melting Van Damme split video. Jenko back and freaking out.
22 Jump Street will open on June 13th, 2014.
Staff writer at CinemaBlend.
Your Daily Blend of Entertainment News
Thank you for signing up to CinemaBlend. You will receive a verification email shortly.
There was a problem. Please refresh the page and try again.