5 Huge Things The Batman v Superman Trailer Taught Us About Lex Luthor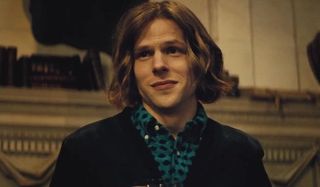 Even though Batman and Superman are fighting each other in Batman v Superman: Dawn of Justice, neither heroes are the movie's villain. That honor belongs to Lex Luthor, who is being played by Jesse Eisenberg. After hearing his voice in April's teaser, the Comic-Con trailer finally showed scenes of Superman's bald-headed nemesis (Or, at least he'll eventually be bald). In the footage, he's just sporting an ugly hairdo. Seriously, various Lex Luthors have had bad hair, but this ranks near the top.
Bad hair choices aside, little has been revealed of what Lex Luthor's role in this film will be outside of the obvious: he'll be up to no good. The trailer gave us a better idea of what to expect from him, and while the specifics are still a mystery, it appears Mr. Luthor has dastardly plans in the works to torment Superman. These are the biggest things we learned about the chief antagonist from the special preview.
He Has Connections With The Government
When you're a billionaire industrialist, it's expected that you have political allies. In the trailer, we saw Holly Hunter's character, an unnamed senator, meeting with Luthor in his luxurious mansion - complete with elaborate fireplace. Why the senator is specifically there is unclear, but judging by Luthor's "devils come from below us" line, they're talking about the danger Superman poses. One persistent and ugly rule in this world is that money talks. Luthor has a grudge against Superman, and although he has significant resources at his disposal, it also looks like he's using his government connections to push his agenda forward. It's clear he's manipulating her to expand his influence, and that won't be good for anybody… well, except himself of course.
He Has Some Kind of Leverage Over Superman
One of the more puzzling shots from the trailer had Lex Luthor standing smugly over a scowling Superman. The Man of Steel, a powerful alien who can shoot deadly heat beams out of his eyes, knelt before his arch-nemesis. Something's wrong with this picture. Superman wouldn't diminish himself like that, let alone to a guy who wants to see him taken down. Does Luthor have some kind of weapon, Kryptonite or otherwise, that's weakening Superman? Is this some kind of mental game, and Luthor is the victor? Maybe mind control is at work. Whatever is happening, seeing Superman kneeling in front of that egomaniac is a rough thing to see.
He Obtained Zod's Corpse
The rumors were true! Going by the trailer, it seems that Luthor has somehow obtained Zod's corpse from the train station where Superman and the Kryptonian general had their final bout, and has smuggled the body into Lexcorp. While the opportunity to dissect an alien would be appealing to any scientist, there may be something more sinister at work. Six months ago, it was reported that while experimenting on Zod, Luthor will trigger a genome that turns the body into Doomsday. The Kryptonian monster has since been reported to be the film's main physical adversary. Keep in mind that Doomsday's involvement isn't official.Whether accidental or on purpose, but maybe Doomsday is Luthor's plan to eliminate Superman, forcing the eponymous heroes and Wonder Woman to take down the brute.
He Has A Chunk Of Kryptonite
It wouldn't be a proper Superman story if Lex Luthor didn't have Kryptonite. Is anyone else getting a Gollum vibe from the way he's staring intently at the green rock? Since Luthor doesn't have powers of his own, outside of his own technological inventions (which may include his war suit), Kryptonite is the only way he can take Earth's alien adoptee down a peg. I'm guessing that Luthor obtained the Kryptonite while scouring the World Engine wreckage, which would explain that brief shot of a diver in the trailer. So far, it looks like Lex is the sole owner of Kryptonite, but it's possible that Bruce Wayne will either obtain/steal some from Lex, as there's a rumor that Batman will wield a Kryptonite spear against Superman during their battle.
He Has A Stake In Superman Fighting Batman
If it hasn't been drilled into your head enough already, this movie will have Superman and an armored Batman going toe-to-toe with each other, and Luthor is pleased with this development. In his words, "Black and blue. God vs. man. Day vs. night." Rather than interfere directly, Luthor may be subtly moving manipulating these two into a showdown. "The red capes are coming!" It certainly helps that Batman is already one of the most paranoid people on the planet and believes Superman to be a threat to humanity. It doesn't matter if Batman gets the job done or someone else, Luthor doesn't just want Superman dead. He wants his reputation ruined beyond repair. In his eyes, it's better to send someone else to do the dirty work rather than get personally involved. Having them fight each other also skews public opinion against superheroes, which is a bonus prize. Obviously the two protagonists won't kill each other, so expect Luthor to have a contingency plan.
Your Daily Blend of Entertainment News
Connoisseur of Marvel, DC, Star Wars, John Wick, MonsterVerse and Doctor Who lore. He's aware he looks like Harry Potter and Clark Kent.