Adrien Brody, Timothy Olyphant And More Up For Abraham Lincoln: Vampire Hunter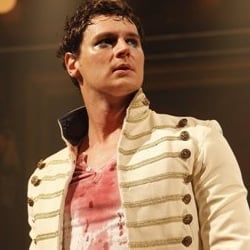 Abraham Lincoln: Vampire Hunter is one of the unlikelier blockbusters in the works at a major studio right now, based on Seth Grahame-Smith's comic novel that violently reimagines the career of our 16th President, and 20th Century Fox is apparently eyeing an equally quirky list of contenders to portray the man. Deadline got their hands on the list of actors who will be screen-testing for the part this week, and among them are an Oscar winner, a current sitcom star, a former would-be A-lister, and a Broadway actor who just finished playing a different American President in tight pants.
The names on the list you might immediately recognize are Adrien Brody (that's the Oscar winner), Timothy Olyphant (the sitcom star thanks to his role on The Office) and Josh Lucas (the would-be A-lister). The Broadway actor is Benjamin Walker, who starred in the short-lived Bloody Bloody Andrew Jackson as the titular President and turned down a role in X-Men: First Class in order to star in the Broadway run. Rounding out the list are James D'Arcy, a British actor known mostly for stage work, and Oliver Jackson-Cohen, another Brit who popped up briefly in this summer's Going the Distance. I hope it goes without saying that casting either of these foreigners as America's greatest President would basically be treason.
Vampire Hunter is set for a release date on June 22, 2012, which means they need to get a cast in line soon to keep up a reasonable production schedule. Timur Bekmambetov will be directing based on a script that Grahame-Smith adapted from his own novel; Tim Burton and Jim Lemley are on board as producers. While a lot of these actors would be unconventional and possibly fascinating choices to play the action hero President, I'd be a big fan of seeing the role go to Walker, who pulled off playing an irreverent, hip and sexy Andrew Jackson with aplomb onstage. It's not like this is a project that needs a huge name attached to sell it; you hear the title and you're automatically there. Olyphant, Brody and Lucas have all had their shots at action hero roles, and Jackson-Cohen and D'Arcy are ineligible for the above-mentioned treason; give the role to Walker, and maybe he'll make it his goal to portray every person depicted on American money. Watch out, Alexander Hamilton!
Your Daily Blend of Entertainment News
Staff Writer at CinemaBlend