Alexander Skarsgard May Join The East With Brit Marling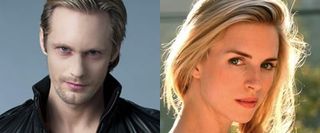 If we were taking bets on which rising stars would be the biggest names in Hollywood one year from today, smart money would be on Alexander Skarsgard and Brit Marling-- and now they may team up in a new film to prove it. Skarsgard is currently in talks to join Marling in The East, a film about an eco-terrorist group of the same name, according to THR.
The True Blood star would join the cast as the leader of the group, opposite Marling's FBI investigator who infiltrates the group looking to take it down. Beyond that, there aren't many details kicking around, though we're guessing the story have Marling's character turn and start actually wanting to be a part of the terrorist group, which attacks companies they feel deserve to be taken down. The plot is actually not so different from what happened in one of Marling's two Sundance hits, Sound of My Voice, which was also directed by The East's Zal Batmanglij; in that movie Marling played the leader of a cult that was infiltrated by two investigative reporters, one of whom got more involved than they expected. As with Sound of My Voice, Marling co-wrote the script for The East with Batmanglij, who will direct.
Skarsgard will be seen in the upcoming Battleship movie, and will also appear next month in Rod Lurie's remake of Sam Peckinpah's classic thriller Straw Dogs. In Battleship he's part of the Navy team stuck fighting the aliens, but he seems to be landing more "bad guy" roles than good guy. We may be witnessing the birth of one of the great villains of the 21st century. Time will tell.
As for Marling, she blew up at Sundance following the premieres of Sound of My Voice and Another Earth, which opened in theaters last month. Earlier this year you saw her as Britta's "gay" friend on Community, currently she's on board for Robert Redford's The Company You Keep, due out next year. And you don't get much bigger than Robert Redford.
Your Daily Blend of Entertainment News