Alison Brie And Lizzy Caplan Playing Sisters In Save The Date, A Rom-Com With Actual Potential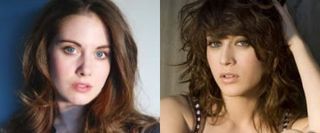 Party Down fans are always anxious to see the stars of that show working together again in some way or another, so they'll be happy with today's casting news about Save the Date, a romantic comedy coming from Mike Mohan, the director of the Sundance hit One Too Many Mornings. According to Variety Party Down alums Lizzy Caplan and Martin Starr have signed on to star in the film, along with Community's Alison Brie, Scott Pilgrim vs. The World's Mark Webber, and 500 Days of Summer's Geoffrey Arend. Best of all for nerdy TV fans, Caplan and Brie are actually the stars, playing two sisters with very different approaches to lifelong relationships with their significant others.
The movie starts shooting in Los Angeles in July, from a script that Mohan wrote along with Jeffrey Brown and Egan Reich; the characters come from graphic novels created by Brown, whose work you can learn about at his very clever official site. As someone with constant hope that the romantic comedy genre will finally be able to pick itself up and be good again, I like pretty much everything we're hearing about Save the Date, especially given that Arend and Webber are veterans of two of the decade's more innovative romantic comedies, 500 Days and Scott Pilgrim. I know it's a lot of film to put on an independent film, even one with a cool cast, but um guys, the future of the romantic comedy lies in your hands. Use this power well!
Staff Writer at CinemaBlend
Your Daily Blend of Entertainment News
Thank you for signing up to CinemaBlend. You will receive a verification email shortly.
There was a problem. Please refresh the page and try again.