American Sniper Getting A Much Larger Release Than Expected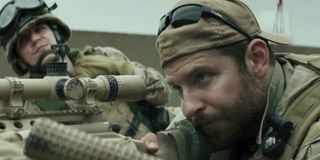 Clint Eastwood's American Sniper is getting some special treatment and is set to get time on the extra big screen. The biopic war film which features a bulked-up Bradley Cooper as the most lethal sniper in the U.S. military, released on Christmas day, and has received very high praise, including two BAFTA nominations. Now the film will be set on a larger stage when Warner Bros. Pictures expands the film from its limited release, and super-sizes it for IMAX on January 16.
The film was not expected to hit IMAX screens and this marks the first collaboration for IMAX with the award-winning director. Dan Fellman, Warner Bros. President of domestic distribution announced the news of the digital remastering for IMAX, and the reasoning behind it in a statement this week. Entertainment Weekly reports Fellman's statement:
In true Eastwood fashion, the film is creating some award-season buzz, with a terrific depiction of the real-life sharpshooter Chris Kyle portrayed by Bradley Cooper. Sienna Miller, Luke Grimes and Sammy Sheik also star in the film, and Jason Hall's screenplay was based on Chris Kyle's autobiography entitled, American Sniper: The Autobiography of the Most Lethal Sniper in U.S. Military History. The storytelling of the film though is probably its strongest point though. And the BAFTAs seemed to agree, nominating it for a Best Adapted Screenplay award.
The novel that the film is based off of was a best-seller, and the film is definitely pro-military but anti-war. It plays special tribute to all the men and women laying their lives on the line in order to protect their country. And the film does a particularly exceptional job in portraying the contradictions of military service and the effects it has on the individual as well as the people around them. Though the film is a drama, it will most likely do well on the big screens of IMAX theaters, especially attracting those who want to see a truer representation of what it means to go to war.
The project, which was first in the hands of Steven Spielberg, was very much under the radar before its release. After Spielberg supposedly left because of the budget, Eastwood stepped in, and even hired real Navy SEALs to star in the film, making it even more so realistic as a war drama. It is hoping for an Oscar nod, though it has some tough competition to head. We'll see how it does with it's wider release later this month.
Your Daily Blend of Entertainment News
Thank you for signing up to CinemaBlend. You will receive a verification email shortly.
There was a problem. Please refresh the page and try again.