Anna Kendrick Will Sing For DreamWorks' Trolls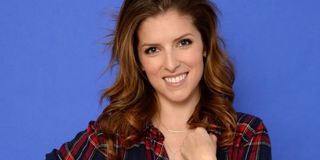 Are we really scraping the bottom of the nostalgia barrel to the point where Troll dolls are getting their own movie? Apparently.
Coming Soon reports Anna Kendrick of Pitch Perfect and Up in the Air acclaim will be lending her voice to DreamWorks Animation's in-the-works musical comedy Trolls.
You might well remember Trolls as a fad that kept popping up between the 1960s and 1990s where ugly creatures with big smiles, beady eyes and gravity-defying brightly colored hair donned various outfits to win hearts and rip away disposable income. Though the background to how this trend came about is charming--involving a Danish woodcutter who carved the first as a gift for his daughter--the Trolls themselves never needed a narrative to sell them. Well, until now apparently.
Erica Rivinoja, who contributed to the script of Cloudy With a Chance of Meatballs 2 and worked on the writing staff of South Park and Clone High, has been hired to craft a narrative for Trolls. With Kendrick's casting, we've gotten our first glimpse into what the Emmy-winning Rivinoja has come up with. Kendrick is set to play Poppy, a who is described as "relentlessly upbeat princess" who is the heroine of Trolls. What's not made clear…is Poppy a troll? It's certainly something the Trolls brand has offered before:
Trolls director Mike Mitchell, who has previously helmed such children's films as Shrek Forever After and Alvin and the Chipmunks: Chipwrecked, did have this to say about Kendrick's casting:
From here it will be curious to see what other performers DreamWorks will wrangle for their Trolls musical. With Frozen's soundtrack proving a record-breaking success for Disney, surely DreamWorks will be seeking talent that can make its soundtrack standout. If you have a hope for who you'd like to see belt it out as a Troll, let us know in the comments section.
Aside from the musical angle, another trend Trolls seems set to follow is that of the CG makeover. Of course, computer generated animation is the forte of DreamWorks Animation, from Shrek to Madagascar to How To Train Your Dragon. But the CG makeover of classically recognizable characters has been a mixed bag. Recently, we've seen the 3D animation version of SpongeBob SquarePants, which gave the typically 2D character a cuddlier look and a cheeky new angle. While this makeover divided fans, the CG re-imagining of the children's book hero Paddington Bear won only derision and horror-laden memes like the one below:
How will Trolls turn out? We won't know until it hits theaters on November 4th, 2016.
Your Daily Blend of Entertainment News
Staff writer at CinemaBlend.