Antonio Banderas Reuniting With Pedro Almodovar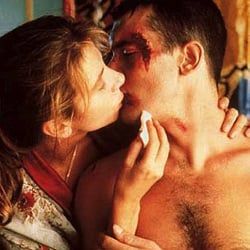 There was a time, 20 whole years ago, when Antonio Banderas was a hot young Spanish actor daring enough to tie in something like Tie Me Up! Tie Me Down!, Pedro Almodovar's film about a man who kidnaps a porn star he's infatuated with. These days Banderas is better known as the voice of Puss in Boots in the unending Shrek movies, but as it turns out, he still has a little daring left in him.
THR reports that Banderas will reunite with Almodovar for La Piel que Habito, a Spanish-language film that shoots this summer. Almodovar told Spanish newspaper El Pais that the movie is "a terror film, without screams or scares," and that "it's the harshest film I've ever written and Banderas' character is brutal."
The brief plot description says the film is about a plastic surgeon getting revenge on the man who raped his daughter, which presumably means we'll see Banderas doing some more brutal tying up and tying down than he did 20 years ago. Almodovar's films don't always get major distribution in the United States, but if this one turns out well, it will be fascinating to see Banderas tap back into the edgy performing we know he's capable of.
Your Daily Blend of Entertainment News
Staff Writer at CinemaBlend