Artiforgs For Sale: Repo Men Viral Site Goes Live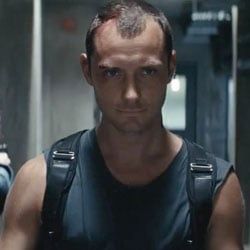 Looking for a nice his and her gift to pick up for Valentine's Day? What about a pair of kidneys? The Union is offering two kidneys for the price of one! The catch? If you can't make your payments, the organs are subject to repossession, whether you're in the midst of using them or not.
A brand new viral website is up and running for Repo Men. The Union's official website showcases its high tech goods called Artiforgs, short for artificial organs. The term is about as lame as Avatar's Unobtainium, but these products are top notch justifying their hefty price tags. Concerned you can't afford your Artiforg? The Union has a special leasing program permitting customers to pay in monthly installments. But be sure to make your payments on time, otherwise a level five repo man like Remy (Jude Law) might come knocking on your door.
This is precisely what a viral website should be. Similarly to Daybreakers' Bromley Marks website, www.theunioncares.com effectively utilizes the film's intriguing premise to develop a resource that's entertaining and informative making it the perfect promotional tool. Check it out for yourself by clicking here.
Your Daily Blend of Entertainment News
Staff Writer for CinemaBlend.