Audio Blog: Why You Should See Rabbit Hole This Weekend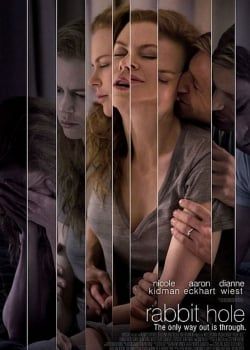 I got on the phone this afternoon with pals Matt Patches and David Ehrlich to talk about True Grit, the new Coen Brothers Western that's the big "prestige" movie (more on that word later) of the holiday season. But once we were done we all realized that there was another film we all loved out in theaters right now, and tragically seeming to fly under the radar amid all the hype for Tron: Legacy and disgust for Yogi Bear. So we decided to talk quickly about Rabbit Hole, the new drama starring Nicole Kidman and Aaron Eckhart as two parents grieving the loss of their four-year-old son a few months earlier. One of the big reasons we wanted to discuss it is because the movie is so much more than what that description sounds like, a rich and funny and very engaging film about all the different ways people deal with grief, not just crying and pounding fists on tables.
We know virtually no one has seen the film yet-- it's out today in limited release-- so our conversation just hinges on the reasons you should see the movie even if you don't think you're in the mood for a downer drama (for one, it's not really a downer drama at all). Take a listen below-- that's the Rabbit Hole soundtrack opening and closing the track, for the record-- and as always, let us know if you like what you hear. Find me (@kateyrich), Matt (@misterpatches) and David (@davidehrlich or @CriterionCorner) on Twitter. Oh, and the True Grit conversation will post next week.
Staff Writer at CinemaBlend