Avengers: Age Of Ultron Crushes Thursday Night Box Office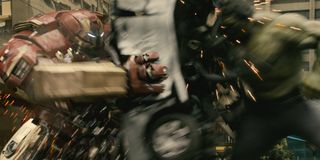 Step aside, Furious 7. We finally have something bigger than you to take all the box-office glory. Marvel already debuted Avengers: Age of Ultron overseas, and the highly anticipated superhero event dropped in the U.S. with late-night screenings on Thursday. The numbers from this opening are in, and they speak of great things to come for Joss Whedon's tireless efforts.
According to The Hollywood Reporter, Age of Ultron has already pulled in $27.6 million at the box office, just from this first night. Not many films can brag about achieving this marker. To give you some perspective, Harry Potter and the Deathly Hallows: Part 2 holds the title of highest-grossing Thursday night opener with $43.5 million. The Dark Knight Rises and three of the Twilight Saga installments fill out the proceeding slots with numbers circling $30 million, and Age of Ultron's numbers give the film the fifth top spot. Thanks to the international release, the film had already made $287 million dollars, and these new numbers raise it over the $300 million mark. And we still have the rest of the weekend.
Wednesday night also saw the fruits of AMC and Marvel's labors to throw an all-day-and-night Marvel movie marathon. Fans flocked to select AMC locations to watch all — and I mean, all — of the installments of the Marvel Cinematic Universe. The festivities began with a screening of the first Iron Man movie at 6:00 pm EST. By 1:00 am on Thursday morning, the audience began watching the first Thor movie. All of this led to the debut of Age of Ultron at 7:00 pm on Thursday night. It was 29 hours straight of Marvel movie watching, and hordes of fans attended.
There's a lot to look forward to in Age of Ultron, which sees Iron Man (Robert Downey Jr.) inadvertently creating the villainous Ultron (James Spader), hellbent on destroying humanity. The film also marked the debut of Scarlet Witch (Elizabeth Olsen) and Quicksilver (Aaron Taylor-Johnson), who are introducing audiences to abilities we've never seen before in the MCU. There's also the origin story for The Vision (Paul Bettany), the epic Hulk-vs-Hulkbuster battle everyone keeps talking about, and teases for what's to come down the road in the Marvel movies. *Cough* Civil War. *Cough* Black Panther. *Cough* Infinity War.
Age of Ultron has already surpassed The Avengers' Thursday night opening numbers by nearly $9 million. With the first of Marvel's big team-ups going on to earn $207.4 million over the course of its opening weekend, the sequel is expected to surpass these numbers. And, who knows, perhaps it'll even race past Furious 7 and hit the $1 billion mark, too!