Batkid Begins Documentary Needs Your Help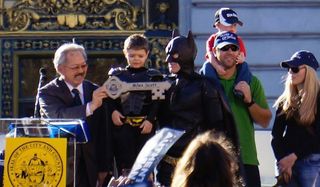 Batkid was a dream that became the kind of reality that warmed hearts and made for sweet memes last fall. But his story isn't over, thanks to the proposed documentary Batkid Begins. But to get it made, its filmmakers need your help. Check out the video above to see how.
Batkid Begins will begin its fundraising campaign on Indiegogo tomorrow, July 15th.
As you can see from the video above, Batkid Begins has access to a great wealth of archival footage from five-year-old Miles Scott's Make-A-Wish day as Batkid, wherein he swooped around San Francisco next to Batman and did all sorts of daring-do. Filmmaker Dana Nachman also has access to the Scott family, including father Nick, who explains how Miles' battle with cancer inspired the kid to want to battle bad guys, like his hero the Caped Crusader.
Now you might rightly wonder, what more is there to tell about Miles and his day as Batkid? People all around the world watched it attentively. Well, to be specific: 1.7 billion people across 117 countries followed along online. We all got swept up in the good feelings of a kid living his dream (and frankly ours). What else is there to say?
Dana Nachman and her producer Liza Meak were intrigued by how this day came together, and how it captured the world's attention and imagination. When they contacted the planners from Make-A-Wish, they found the backstory to Miles's big day was "absolutely riveting." Their hopes were to gather 200 people to play witness to this little cancer fighter's story, but the crowd turnout grew by leaps and bounds, far exceeding their expectations. From that point, Nachman was in her own words "dying to make this documentary."
The bulk of Batkid Begin's production is done, thanks to a bare-bones approach and a dedicated but small crew. Nachman is hoping to debut the doc on the one-year anniversary of the day of Batkid on November 15th, 2014. But Batkid Begins needs $100,000 for "all the bells and whistles" that will make it a proper homage to the superhero movies that inspired Miles Scott. Contributions will go toward creating a phenomenal soundtrack for Batkid Begins, animation and graphics to tell the before of Batkid's big day, a top-notch sound effects design, and aerial footage of Miles' Gotham City (A.K.A. San Francisco). Nachman is quite clear: she wants to make Batkid Begins "as epic as the day was." And she needs your help.
And by helping Batkid Begins, you'll be helping the Batkid Fund, as proceeds from the movie will go to this group, which donates to three charities of the Scott family's choosing.
Tomorrow, we'll post more details on this fundraising effort, including its prizes. Stay tuned. Same bat time. Same bat channel.
Staff writer at CinemaBlend.
Your Daily Blend of Entertainment News
Thank you for signing up to CinemaBlend. You will receive a verification email shortly.
There was a problem. Please refresh the page and try again.