Batman V Superman Just Dropped Three Sweet New Posters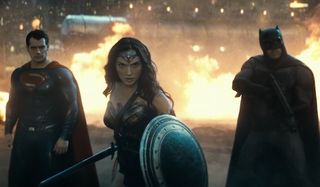 We're a little over three months away from the release of Batman v Superman: Dawn of Justice, which means promotion for the blockbuster is ramping up. Two weeks ago, Warner Bros. released a new trailer that featured a lot of new material, including Clark Kent and Bruce Wayne meeting for the first time, more of Lex Luthor's sinister plotting, and Doomsday. Now the time has come for posters to start being plastered in movie theaters, and today we have three showcasing the movie's main super-protagonists: Batman, Superman, and Wonder Woman.
New posters featuring Batman v Superman: Dawn of Justice's principal heroes were released on the movie's social media accounts earlier today. They certainly capture the story's gritty elements, and the heroes look like they're posed as the earth shakes beneath them, hence those rocks flying through the air, and each has their respective symbol laid over them. Let's take a new look at the live action iterations of the DC Trinity.
Batman
First up, the Batman. Although Ben Affleck's iteration of the Caped Crusader will wear his standard black and grey costume for most of the movie, the poster opted to feature him in his Dark Knight Returns-inspired armor, which he'll don to battle the Man of Steel. The armor boosts Bruce's strengths to superhuman levels, but in typical Batman fashion, he's also wearing a special utility belt, which you would have only noticed in the other trailers if you paused at just the right moment. The items within those compartments will no doubt give Batman some added advantages in the brawl, and if one of those compartments is lead-lined, then that means he's gotten ahold of some Kryptonite to weaken the last son of Krypton.
Superman
Of the three posters, Superman's is the most standard, with Kal-El of Krypton staring intently at the viewer. As noted in the past, his costume hasn't changed much since Man of Steel, and neither has his mission: to protect his adoptive people from any threats. Of course, some folks think he's a threat himself given how much power he holds, which is why Clark will have to deal with his share of detractors, including a paranoid Batman and a scheming Lex Luthor. As mentioned before, Batman v Superman: Dawn of Justice looks like it's following in Man of Steel's footsteps as a dark affair, and this poster certainly helps cement the tone. This isn't usually a good fit for Superman, so hopefully the movie us at least a couple scenes of him in a bright setting (literally and figuratively). Please.
Wonder Woman
Finally, we have Wonder Woman, who may not be named in the movie title, but still plays a key role in the story. Just like what little we've seen of her in the previews, this poster emphasizes her as a warrior, with her sword at the ready and her shield strapped to her back. Wonder Woman will join Batman and Superman in fighting Doomsday sometime during the latter half of the movie, but the exact reason for her participation in these events, both in costume and in formal wear as Diana Prince, is still shrouded in mystery. However she gets involved, we know she'll bring the pain to Doomsday, and the movie will get audiences familiar with her before the Wonder Woman movie arrives in 2017.
Connoisseur of Marvel, DC, Star Wars, John Wick, MonsterVerse and Doctor Who lore. He's aware he looks like Harry Potter and Clark Kent.