The Baywatch Movie Found Its Villain, Get The Details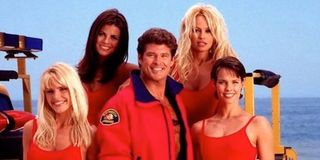 Though it may sound like an April Fool's Day prank, Dwayne "The Rock" Johnson is in fact making a big screen version of the hit lifeguard series Baywatch. The original show is most known for putting beautiful people in swimsuits and having them run in slow motion, and while we don't know about the slow motion part yet (though we assume), the new Baywatch has certainly been casting some beautiful people, and they've just added another, Priyanka Chopra, in a villainous role.
As he is prone to do, Dwayne Johnson took to social media to reveal that Priyanka Chopra has joined the Baywatch family. Following up on this news, Entertainment Weekly subsequently learned that she will play a character named Victoria Leeds, and that she will appear in an antagonistic capacity. Whether or not she's the main big bad, or just a part of a larger nefarious scheme, remains to be seen. Maybe she'll be won over by the sheer awesomeness of the heroes and switch sides by the end.
The 33-year-old is most known to American audiences for her role as an FBI trainee named Alex Parish on ABC's first-year hit thriller Quantico. Though she's just catching on in the U.S., Priyanka Chopra is a huge international star and has appeared dozens of Bollywood films.
She joins a cast that already includes a bunch of famous names. In addition to Dwayne Johnson, Zac Efron is one of the leads, Alexandra Daddario, who co-starred with The Rock in San Andreas, will appear as Summer, comedian Hannibal Buress recently signed on, Billions' Ilfenesh Hadera is part of the party, and C.J. Parker, the role that turned Pamela Anderson into an international sex symbol, will be filled by swimsuit model and actress Kelly Rohrbach.
And about that slow motion, don't worry. If Dwayne Johnson's Instagram post is anything to put stock in, it sounds like there will be plenty of that in store.
Directed by Horrible Bosses and Identity Thief helmer Seth Gordon, Baywatch is set to begin production next week. Though we don't have much in the way of specifics, what we've heard about the story indicates that this is a comedic take on the source material (I don't know that we could take a dead serious, gritty Baywatch reboot, maybe Baywatch Nights, but not Baywatch proper) and will see the iconic lifeguards take on an evil corporation that wants to pollute the beach. It sounds a bit like the plot of roughly half the movies of the 1980s, so I'm totally down.
Baywatch is set for release on May 19, 2017.
Your Daily Blend of Entertainment News
Your Daily Blend of Entertainment News
Thank you for signing up to CinemaBlend. You will receive a verification email shortly.
There was a problem. Please refresh the page and try again.