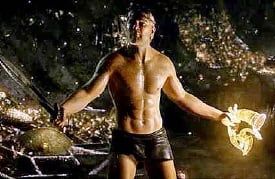 With Beowulf set to open in a few days, Ray Winstone will forever be immortalized, like Tom Hanks before him, as one of those creepy Robert Zemeckis animated people. Winstone, previously best known as Mr. French in The Departed and holding his own with Ben Kingsley in Sexy Beast will play the titular hero opposite Angelina Jolie, Anthony Hopkins, John Malkovich, and Crispin Glover. He's not resting on his laurels though; this is a guy who has a full dance card.
Winstone told MTV Movies Blog that after the high profile movies Beowulf and the upcoming Indiana Jones and the Kingdom of the Crystal Skull, he's gonna go all independent on our asses. "[I might do] a film called The Minutemen," he said, "It's an American indie film by the Nee Brothers. It's really good." Adam and Aaron Nee directed a festival favorite called The Last Romantic and their next movie is about an attack on America, not about the staying power of most males.
That's not enough independent cred for Winstone, he wants even more. He's going to star in Death of a Ladies Man, written by singer Nick Cave. He plays a womanizer who dies, or something of that sort if the title is any indication. Finally, Winstone will re-team with the Sexy Beast writers for an English gangster picture called 44 Inch Chest. The cast includes Ian McShane, Tim Roth, and John Hurt. Screw the other two movies, this is the one I'm gonna be looking out for.
Your Daily Blend of Entertainment News
Thank you for signing up to CinemaBlend. You will receive a verification email shortly.
There was a problem. Please refresh the page and try again.