A Big Hero 6 Sequel? Stan Lee Seems To Think It's Already Happening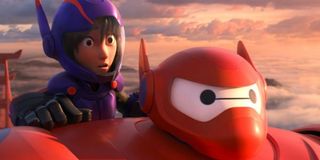 Great news for Big Hero 6 fans—and who isn't—the characters will be back for another animated adventure. We can thank Stan Lee for the tip, as the comic book legend recently spilled the beans on that a sequel is in the works in an interview while talking up all things Marvel.
Talking to the Toronto Sun, Lee had quite a bit to say Marvel's upcoming slate of movies. He said:
Stan Lee, who was on hand to help Gillette introduce "concept" razors based on Avengers characters at the World Shave Headquarters in South Boston, revealed that Marvel will be quite busy making movies for the foreseeable future. That's 2028 to be exact, and that future includes a sequel to the 3D computer-animated superhero action comedy Big Hero 6. No real surprise there, the film—which was based on Marvel's comic of the same name—was a box office smash and won an Academy Award for Best Animated Feature. Not too bad.
Big Hero 6, which was produced by Walt Disney Animation Studios, was undoubtedly a gamble for the studio. It was the first Disney film to feature Marvel Comics characters, but the risk definitely paid off. The animated family film, which used new software technology to produce the animated visuals, was critically acclaimed and record-breaking. It was also the highest grossing animated film in 2014. With success like that, no wonder Stan Lee is more confident that ever in all things Marvel.
The former head of Marvel was his usual jokey self when speaking about the four new razor prototypes inspired by Iron Man, the Hulk, Captain America, and Thor, but then turned more serious when prompted by the subject of Marvel vs. DC. When it comes to movies, for him, there is simply no contest. Come on, like you didn't see that coming. He wishes Marvel's chief rival well, saying it's good for everyone if comic book movies succeed. However, he notes that they have some catching up to do, and wonders who, outisde of Batman, Superman, Wonder Woman, and possibly the Flash, can compare to Marvel's deep stock of superheroes.
Marvel has two upcoming films poised to shatter even more box office records. Avengers: Age of Ultron will be released on May 1 and Ant-Man will be released on July 17. Given his track record for cameos in Marvel movies, you can bet that Stan Lee will make an appearance in both. Stay tuned for updates on the sequel to Big Hero 6.
Your Daily Blend of Entertainment News
Your Daily Blend of Entertainment News
Thank you for signing up to CinemaBlend. You will receive a verification email shortly.
There was a problem. Please refresh the page and try again.