Blonde Bimbo Plays Blonde Bimbo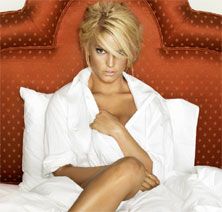 The fish are swimming around in the barrell and I've got my shotgun ready so we might as well talk about Jessica Simpson starring in the movie Major Movie Star. I think the movie was actually called something else but Simpson and her manager/father made them change it in the hopes that people would actually equate Simpson with the sentiment expressed by the title. The previous name was probably something like Really Hot Dimwit.
Simpson will play a selfish star who joins the Marine Corp to try to win a part in a military movie. Her character is tired of being a blonde bimbo. Unlike Simpson herself who's pretty comfortable in that role. She comes to realize her mistake (not unlike the mistake the producers will realize they made in casting her in this) but continues with her training for the good of the country. No other cast members were announced.
The movie, which sounds like a rip-off of Private Benjamin has been floating around for several years and now has 12 attached producers. The script was written by someone with no produced writing credits and the director will be Steve Miner. Miner has yet to make a good movie that I can tell but is pretty busy as a television director. He's also helmed two Friday the 13th sequels, Big Bully, Halloween H2O, and My Father, the Hero among many others. All in all, not exactly something that has me counting the days until opening weekend.
Your Daily Blend of Entertainment News