British Crooner Sam Smith Is The Rumored Choice To Sing The Next James Bond Theme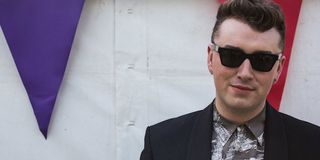 No one would doubt that the James Bond films aren't huge everywhere: the last one, Skyfall, collected $1.1 billion dollars worldwide - over $300 million of that coming from America. But in England, they're absolutely NUTS for Agent 007, to the point where stories involving the new movie (slated for release November 6th, 2015) take on an almost fanatical level of rumor and conjecture. This happens particularly often in regards to the fabled "Bond theme." Who will be singing it this time for Bond 24?
Well, if you believe The Sun (via Music Times), the man of the hour is Sam Smith, currently rocketing up the worldwide charts. The 22-year-old British crooner has achieved crossover success with his soulful anthem "Stay With Me," a ballad that sounds absolutely nothing like a Bond tune. The young chap has a lovely voice for a kid that wasn't even alive for the Timothy Dalton era, as you can hear below.
Part of the rumor is that Sam Smith is getting the call because Adele has opted not to return. It is unusual that the producers would ask a Bond singer back, but you don't mess with success, and Adele did absolutely own the title track for Skyfall. Back in the day, Shirley Bassey actually recorded three songs for the franchise, having sung the themes for Goldfinger (greatest), Diamond Are Forever (awesome) and Moonraker (adequate!).
It's a little hard to believe they'd pick a theme singer just yet, given that the movie is more than a year away. Smith also feels a bit too trendy a pick, given that he's currently charting so high. Skyfall was considered one of the best-ever Bonds, and Adele's theme was one of the greatest of all time, so the bar is way up there. Is a young fella with a sotto voce voice like Sam Smith the best pick? Shirley Bassey is still around, guys. Sharon Jones is also still around. What about Muse, who claimed that their song "Supremacy" was their unofficial Bond song?
There are two kinds of Bond songs: the kick-ass action-y theme, and the softer, romantic one. Smith honestly seems a bit green for the latter. Does a character who has starred in 24 films need lessons in love from a kid who was in kindergarten when Goldeneye came out? And we haven't really heard Smith really let loose just yet, so do we know if he's capable of singing something a bit more driving and up-tempo? We can probably count him on the list of prospective Bond theme singers, but it's just way too early to proclaim him the frontrunner let alone the choice.
Your Daily Blend of Entertainment News
Thank you for signing up to CinemaBlend. You will receive a verification email shortly.
There was a problem. Please refresh the page and try again.