Bruce Boxleitner Is Back In Tron 2!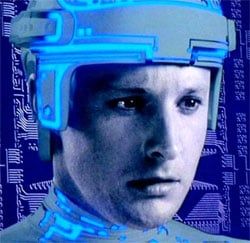 All my Tron sequel dreams are coming true. Bruce Boxleitner is in the sequel! Now if only they'd change that awful name.
Until they do change the name, the internet seems determined to ignore the one Disney has chosen. So we'll follow Coming Soon's lead in calling it Tron 2.0 even though that's not what it's called, but that's what they boldly called it when breaking the story of Boxleitner's involvement.
In the original Tron, Bruce played Tron. He's the real star of the movie, a program created specifically to destroy the MCP and aided by a human named Flynn, played by Jeff Bridges. Now both Bridges and Boxleitner are back. In fact, Bruce is actually on set somewhere filming his role right now. Well maybe not right now, but somewhere around now.
No word on what part he'll play in the sequel, just as we still don't really know what Jeff Bridges is doing. Only that they're both back. Now tell me they're also bringing back Peter Jurasik and this little Tron nerd may digitally mess his pants. Oh my user!
CS does offer a couple of new plot details though regarding the parts played by other cast members and Tron newcomers Olivia Wilde and Beau Garrett. Apparently Olivia is playing a worker in the virtual world who aids in the fight against the Master Control Program (sounds a lot like the role played by Cindy Morgan in the original film) and Beau Garret will play some sort of virtual world "siren".
Your Daily Blend of Entertainment News