Buscemi Into Running Drugs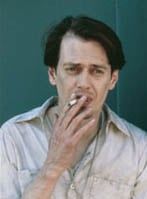 Lately Steve Buscemi has become quite the movie renaissance man. If he's not dabbling in television or doing voice work for an animated movie, he's producing or directing. Acting seems to remain his primary passion and Empire Online has the latest on his choice of roles.
The boys who wrote Wedding Crashers have moved from nuptial booty calls to drug running. Screenwriters Steve Faber and Bob Fisher's latest comedy, We're The Millers, follows Buscemi's character, a weed dealer who plans to pull an Oscar (obscure Hollywood reference to Sylvester Stallone movie about a gangster who goes straight) but only after he manages one last run: 1400 pounds of fresh marijuana from south of the border.
No word yet on whether or not Tommy Chong will be involved but he's gonna need something to do now that "70's Show" is saying adieu. He'd only be perfect.
Your Daily Blend of Entertainment News