Carla Gugino is a Cheater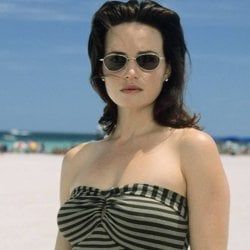 Variety reports that Carla Guigino, who recently co-starred in the Pacino/De Niro stinker Richeous Kill, is set to play the mistress of Liev Schreiber in a movie titled Every Day. Aside from her recurring role in Entorage, Guigino's star hasn't exactly risen lately. It is exciting to see that she is landing meaty roles that will utilize the power that she brings to the screen.
As reported in Variety, in Every Day, Gugino will act alongside Schreiber, with Helen Hunt playing his disgruntled wife. Richard Levine, of Nip Tuck, will write and direct, with Miranda Bailey and Mattew leutwyler producing under Ambush Entertainment.
You might remember Gugino from her meaty role in the Frank Miller comic book-based Sin City, in which she plays an angry lesbian cop who gets buck naked. Maybe the latter is what hurt her chances at becoming a huge star? Then again, maybe it was Spy Kids that really killed her potential stardom. But, according to IMDB, Guigino has five movies in production and one in the can. With Watchmen impending, and Gugino playing a lead part, it sounds like she will be everywhere in 2009. I hope she's ready for her close up.
Your Daily Blend of Entertainment News
Thank you for signing up to CinemaBlend. You will receive a verification email shortly.
There was a problem. Please refresh the page and try again.