Catherine Zeta-Jones Is A Cougar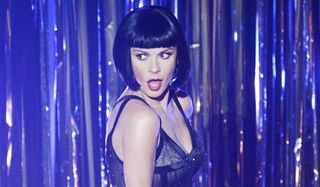 Catherine Zeta-Jones has been raising eyebrows for years thanks to her marriage to Michael Douglas, who's actually old enough to be her dad (He's 64, she's 39!) But in an upcoming movie, Zeta-Jones will play the older member of an unlikely couple that bridges the generation gap. Catherine will be, shall we say, a cougar.
She'll star in an untitled romantic comedy from Bart Freundlich, a director better known for his marriage to Julianne Moore than the quality of his work. Zeta-Jones plays a single New York City mom who starts a relationship with a 25-year-old man. The Hollywood Reporter points out, creepily, that Freundlich is married to an older woman, and may have based the story on his own life.
Freundlich's movies thus far have mostly gotten attention because his wife has starred in them, not because they've been any good. I guess it's interesting that he cast Zeta-Jones instead of his wife, but maybe Moore has gotten tired of starring in movies that do nothing for her career? Freundlich may be shaking things up with his casting, but there's pretty much no reason to believe this one will be worth seeing either.
Your Daily Blend of Entertainment News
Staff Writer at CinemaBlend