Channing Tatum's Gambit Movie Will Cost A Lot More Than We Thought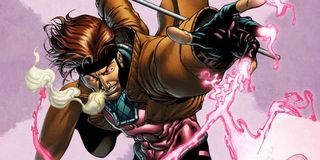 With the First Class-led X-Men trilogy coming to an end, Fox is now investing in the future of its superhero franchise… literally. Deadpool is already revving up for release, a New Mutants adaptation is somewhere down the line, and a Fantastic Four-X-Men crossover is under discussion, but Gambit will cost an arm and leg for the studio to make. How much exactly? Oh, just over $150 million.
The Louisiana Economic Development's Fastlane, a site that tracks projects filmed in the state, estimates that making Gambit will cost Fox $154,975,309. A further breakdown of the information postulates that $111,834,168 of this money will be spent within the borders of Louisiana, while $28,098,668 of that chunk will go to local employees. This is no chump change, and it gives us an idea of just how grand Fox is planning to make Gambit, something we probably weren't expecting. And that quote isn't even factoring in the massive paycheck that will no doubt go to Channing Tatum, the man portraying Remy LeBeau.
However, if you think back to Deadpool's Comic-Con debut, fans were floored by Ryan Reynolds and his performance as the R-rated merc with the mouth. This film hits a few of the same notes as Gambit — a standalone X-Men film about a popular rogue mutant portrayed by a well-known actor with a substantial fan base. With the current line-up of X-Men seemingly switching up — Jennifer Lawrence will probably leave the franchise after Apocalypse, while the film introduces younger versions of well-known mutants — there's no reason why the combined force of Ryan Reynolds and Channing Tatum couldn't carry Fox's mutant franchise forward. But that means Fox has to make Gambit worthwhile.
Gambit is already said to have gone into pre-production, while principal photography is slated to kick off this October 13, running through February 12, 2016. Rupert Wyatt of Rise of the Planet of the Apes and The Gambler is directing the film for Fox. When Gambit was first announced, the original idea was for him to be featured in a cameo appearance in X-Men: Apocalypse (in theaters on May 27, 2016) before headlining his own film. Tatum has seemingly debunked this story, though his presence at Comic-Con raised some questions. Plot details for Gambit are currently unknown, but Tatum recently confirmed that it will be an origin story, teasing that there are many different ways to handle that. It's unclear whether it will connect to the continuity of the X-Men trilogies, and the actor also said that this film aims to change a lot of those common superhero movie tropes. Deadpool, for one, will likely stay in his own world (for now), and yet that's what we thought about the Fantastic Four and now there's hope for Fox's own shared cinematic universe. We shall see.
Your Daily Blend of Entertainment News