Channing Tatum: Street Fighter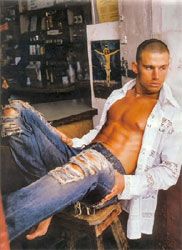 Channing Tatum gets a lot of flack for being a pretty face. True, in a lot of his roles that's all he's really been able to offer, but occasionally he's shown a little bit of acting talent. A Guide to Recognizing Your Saints is one of those pictures. If director Dito Montiel could get a decent performance out of Tatum for that, it only makes sense the two would want to work together again, allowing Tatum another change to shine as an actor.
That's exactly what the two are doing, as Channing Tatum will appear in Dito Montiel's next picture, an unnamed movie about underground street fighting, prouduced by Rogue Pictures. According to Variety, Tatum's character, who makes a living scalping tickets, will get involved in underground fighting after an encounter with a street-fighting coach. Sounds like an underground street fighting version of Rocky to me.
The question is, will Montiel do as well with a fictionalized tale as he did with Saints, which was a sort of autobiography for the filmmaker. At the same time, Tatum fans will flock to the theater regardless of the storyline, but will they tolerate his face getting beaten in over the course of street fighting? Or will this be a weak film that champions its star's looks over a realistic approach to the subject?
Filming is scheduled to start in September, but Montiel and Tatum have one more concern: another studio is also working on a street-fighting movie with Sean Faris in the lead. Will there be room for more than one street-fighting movie? Only time will tell.
Your Daily Blend of Entertainment News