Chinese Superhero Pancake Man Is Coming To The United States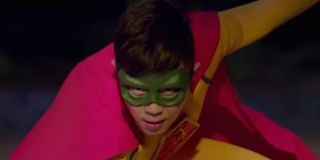 Just last week, Pancake Man opened in China, and was off to an incredible start. The superhero parody film helped make history at the Chinese box-office, as it saw its biggest single-day take ever. And with this success, the quirky film has now received international release dates, including North America, Australia and New Zealand.
The hit action flick is written, directed, and starring Chinese actor and comedian Da Peng, well-known in China for his web series Diors Man, an SNL-like sketch comedy and variety show. Pancake Man tells the story of a poor street vendor who is given miraculous super powers, all thanks to the pancakes he sells. Now we can't be sure why Da Peng's character is the only person gaining superpowers from his pancakes. Or maybe there are only a special batch of these power-giving food items. But who in their right mind would go against this cape-wearing super human? None other than Jean-Claude Van Damme, apparently.
According to The Hollywood Reporter, the film did so well in the Chinese box office, that now it will be heading to a slew of international box office, including the United States. The comedy will arrive at select theaters in New York, Los Angeles, Chicago, San Diego, Boston, Seattle and San Francisco on July 24th. Pancake Man translated from Jian Bing Man, also stars Chinese actresses Mabel Yuan and Liu Yan.
There aren't too many plot details out there, and not a ton is given away from the trailer (unless you speak Mandarin, of course) but the film was made on about a $13 million budget, and opened to an impressive $69.02 million, so it was off to a quick success. Here you can check out the trailer for yourself, and at least get a good look at Pancake Man's classic looking superhero suit and cape.
With the Hollywood film industry dominating the superhero movie, there hasn't been much chance for outsiders to pose a threat. Particularly in China, they haven't really had a nationally beloved superhero since the Monkey King or Sun Wukong was created and seen numerous variations of that same character. This could be a start to a new emerging superhero franchise in the country. And we can't wait to see how far it goes.
Your Daily Blend of Entertainment News