Chris Pratt For Indiana Jones? Don't Get Your Hopes Up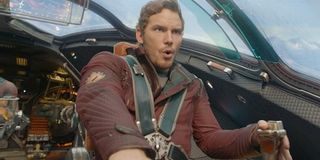 When a rumor implied that the rising stardom of Chris Pratt could have him set to take over as the star of the Indiana Jones franchise, fans were already sizing the Guardians of the Galaxy star up for a signature fedora and leather jacket. After those rumors digested for some time, the question of validity was posed to Guardians director James Gunn. Let's just say that his response was not a call for optimism on the subject.
According to Variety, Gunn utilized a new video-centric social media app called Periscope to answer fan questions in a face-to-face manner. However, when the topic of the conversation shifted to the rumor of his Star-Lord, Chris Pratt, becoming the new Indiana Jones, Gunn expressed how cool it would be for the actor. Ultimately, however, he gave a startlingly frank answer, saying that the rumor, "seemed like complete bullshit."
While Gunn never divulged the reason for his assured answer, it's possible that it came about after talking with Pratt, since Gunn mentioned the two hung out recently. Though the initial rumors seemed quite feasible considering the momentum that Pratt is riding with Guardians and its upcoming sequel, The LEGO Movie, and Jurassic World, it did seem to be a "grain of salt" type report that, perhaps, blew up because of that apparent feasibility. With Guardians, Pratt, a relative unknown, made $774 million for Disney, who, in an agreement with Paramount, will also be taking domain over the Indiana Jones franchise. So, it all seemed to make sense, especially with Harrison Ford's days with the series looking numbered.
For Pratt, however, the rumor was clearly news to him, as he was befuddled when fans suddenly started asking him to sign Indiana Jones paraphernalia. Thus, the only real substantive take-away from these rumors is that Disney is doing a lot of behind-the-scenes brainstorming in an attempt to make a new Indiana Jones film of some type a reality. Nevertheless, the idea of Chris Pratt landing the role of Indiana Jones would be a major coup for both the actor and the studio. He's certainly proven to be a likable, relatable (and now bankable) action star; one who efficiently plays "fly by the seat of his pants" type characters with remarkable ease, mixed with comedic timing.
Pretty much all of the major movie projects on Pratt's plate are big-money tentpoles. While this summer's Jurassic World is already in the can, he heads next to a 2017 remake of The Magnificent Seven, then it's back to his spaceship, The Milano, to once again defend the cosmos in Guardians of the Galaxy 2. Any one of those projects could see him called back for more chapters, and adding Indiana Jones to the mix might be stretching his talents a bit thin -- not only for himself, but the moviegoing public, as well.
Your Daily Blend of Entertainment News
Your Daily Blend of Entertainment News
Thank you for signing up to CinemaBlend. You will receive a verification email shortly.
There was a problem. Please refresh the page and try again.