Comic Con: Watch Twilight's Taylor Lautner Talk About His Body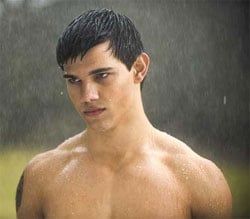 Panties were thrown and the San Diego Comic Con was filled with the shrill screams of middle aged mothers and their daughters as they stood hand in hand, grinding against the chair in front of them. Yep, it's the Twilight panel where women went to drool over the film's stars and unite together in universal lust.
Our own Katey Rich was right in the center of it, and by accounts it was Twilight's boy werewolf Taylor Lautner who had the most fun with it. In particular he seems to have done a lot of talking about his body and apparently, his love of jorts (part jeans, part shorts!).
Below we have a somewhat grainy clip, straight from the Twilight panel, in which you can hear (amidst the screams of horny women) Lautner talk about his body. Not just his body, but what it took to transform himself into the hunky hunk he's supposed to be for the second movie, The Twilight Saga New Moon. Watch:
Want more from Comic Con? This is just the tip of the iceberg. Get it all right here.
Your Daily Blend of Entertainment News
Thank you for signing up to CinemaBlend. You will receive a verification email shortly.
There was a problem. Please refresh the page and try again.