Connecticut Theater Strikes Back At Moviegoers Too Dumb To Understand Tree Of Life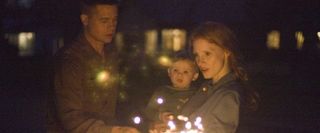 I saw Terrence Malick's new film Tree of Life in a theater full of critics who were very eager to appreciate the rambling, lyrical, not entirely easy to understand film. And even so there was a lot of fidgeting, and probably more than a few people who at least wished they could walk out and get on with their lives, even if they didn't have the gumption to do it. But when it comes to normal moviegoers, who paid $13 to see the movie and probably have even richer lives to get back to, they've got no reason to stick around; stories about walkouts in Tree of Life have abounded since the movie opened in May, and even though it's a decent size art house hit, you can't please 'em all.
Of course there's a difference between walking out of a movie you don't like and demanding your money back, and that's where the Avon Theater in Connecticut has had to step in. In a hilariously worded sign posted at the theater (and tweeted by joesview), they emphasize to moviegoers that not only will they not give refunds, but they might be missing the point. Check out the sign below (click on it for a larger version).
Between this and the now-legendary Alamo Drafthouse PSA, theaters are striking back against obnoxious patrons in increasingly hilarious ways. If your local theater does something this amusing, please tip us off-- we're always up for supporting the crusade in favor of making the moviegoing experience better.
Your Daily Blend of Entertainment News
Staff Writer at CinemaBlend