DC's Lobo Movie Just Took A Big Step Forward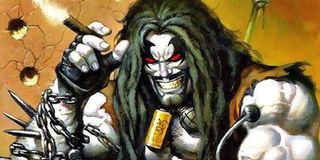 A ton of DC comics characters are on the way to theaters coming up, starting next week with Batman v Superman: Dawn of Justice. Wonder Woman is getting her own solo movie after that, then there's the Justice League movies, Aquaman, the Flash, and more in the works. There's been talk of Lobo, about DC's badass alien bounty hunter, for some time, but it seemed stalled out for a while. Now, however, the project has taken a big step forward, hiring a writer with a background in comic book movies.
According to The Wrap, Jason Fuchs has been hired to tack a whack at the script for Lobo for Warner Bros. This will be his second consecutive comic book movie for WB, as he also penned the currently in production Wonder Woman, which stars Gal Gadot as the iconic Amazonian heroine, and Star Trek' Captain Kirk, Chris Pine. If nothing else, this appears to indicate that the studio has faith in Fuchs' ability within the comic book movie world.
Since 2009, Warner Bros. has been working on Lobo, but never getting much of anywhere, having been stuck in various stages of development for years. Guy Ritchie was originally set to direct, though he ultimately left to go make Sherlock Holmes: A Game of Shadows. San Andreas director Brad Peyton then became attached after the departure, and Dwayne "The Rock" Johnson was set to play the title character, though he, too, jumped ship eventually and will play Black Adam in Shazam.
Still, despite all the problems, Lobo hasn't ever been officially cancelled. Back in 2012, Don Payne was hired to write a script. However, according to The Wrap's sources, Jason Fuchs is not going to be working from that draft, he will, instead, be starting over from the beginning.
Lobo first showed up on the pages of DC Comics in 1983, intended as an over-the-top spoof of Wolverine over at Marvel—the two bear a serious aesthetic resemblance. The character remained rarely used for years, popping up here and there as a villain, until he resurfaced with his own title in 1990s and was painted as a biker-style antihero. Arrogant and cocky, Lobo hails from the fictional planet of Czarnia, a kind of crime-free utopia. Despite this background, however, Lobo loves nothing more than a nice bout of drunken violence.
Given how much talk there has been recently about violent, R-rated comic book adaptations following the release and massive success of Deadpool, Lobo seems tailor made for this kind of treatment. Though Lobo has been spinning its wheels for years, perhaps in this landscape, one that is newly accepting of potential on-screen violence in comic book movies, this might be the perfect time for Warner Bros. to push forward and for Lobo to gather some momentum.
Your Daily Blend of Entertainment News