New DVD Releases: February 2015 In Home Entertainment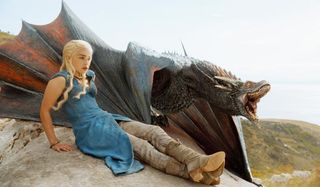 February might be a slow month at the movies, but there is still some great stuff headed into homes, thanks to Blu-rays and DVDs. Among these is the long-anticipated Game of Thrones Season 4 release, which will be available to fans later this month ahead of HBO's Season 5 premiere in April. If you want to know when your favorite movies are headed onto Blu-ray and DVD, as well as streaming services, this list is one to peruse. Unless otherwise indicated in the "early release" section, Digital releases are the same day as the Blu-ray and DVD release. Check back each week for new reviews!
February 3
The Best of Me
Nicholas Sparks' romances have gotten more outlandish over the years, but at its heart The Best Of Me that unfolds in two time periods simultaneously. It's a story about young love and poor timing, about cultures clashing and finding happiness in small moments. It also stars James Marsden and True Detective actress Michele Monaghan as former lovers Amanda and Dawson who reconnect following the death of mentor Tuck (Gerald McRaney), though they have to split time with younger actors Luke Bracey and Liana Liberato. Things get, quite frankly, bizarre, when Dawson's family re-enters the picture later on. The movie is oversentimental and the plot is occasionally wacky, but The Best of Me certainly has its audience, and there are worse things to watch with a pint of icecream on a Friday night. Sparks fans should also be pleased with the Twentieth Fox Home Entertainment set, which includes a couple of segments where Sparks actually interviews the cast members. And bonus! There are plenty of deleted scenes. You can order the disc over at Amazon, now.
Other February 3 Blu-ray And DVD Releases
John Wick
Dracula Untold
Ouija
Porco Rosso Blu-ray
Pom Poko Blu-ray
Tales From Earthsea Blu-ray
The Disappearance of Eleanor Rigby
Dear White People Blu-ray
Exists DVD
Hector and the Search for Happiness DVD
Boys DVD
Starry Eyes
Richard Pryor: Omit the Logic
February 3 Early Digital Releases
Big Hero 6
St. Vincent (February 6)
Life Itself
The Homesman
February 10
Nightcrawler Blu-ray
Nightcrawler is creepy, at times. It's also unnerving and even infuriating. It gives a voice to one of the most ruthless and disturbing movie characters in recent memory. It's also fascinating, engrossing and nearly impossible to turn off. That success is due to clever writing and great performances by actors Rene Russo, Bill Paxton and especially lead Jake Gyllenhaal, who was robbed of an Academy Award nomination for this fearless, weirdo performance. Fortunately, the larger film won't soon be forgotten as it's simply too out there and clever to be forgotten. It's the type of film that sticks with the viewer, and despite a brooding and dark setting, it actually looks great on Blu-ray. The special features aren't terribly exhaustive, but what is here, including commentaries and a "making of" featurette, should be worth a look to viewers.
101 Dalmations: Diamond Edition Blu-ray
Disney has been rolling out the Diamond Edition Blu-rays for some time now, but that doesn't mean that 101 Dalmations isn't a worthy addition to the canon. In fact, while Disney's reputation has mostly been built on delivering memorable princesses, the studio is arguably just as famous for its larger than life villains. And no one sits higher up on that peak than Cruella De Vil. The terrifying, chain-smoking lady ghoul is a puppy-hunting machine, and her theme song is absolutely killer, though the classic is definitely a bit better than Selena Gomez's cover that can be found alongside the far more exciting bonus features on the disc. The rest of the extras are a delightful mix of new content and older features from previous home entertainment releases. Whether you're a huge fan of 101 Dalmatians or more a fan of classic Disney, this Blu-ray belongs in your collection.
Laggies Blu-ray
There's something to be said for a perfectly cast movie. Sometimes it's not about getting the biggest names or the ones with the most buzz. Instead, it's about finding what each role needs, and Laggies does that really well. Sam Rockwell, Keira Knightley and Chloe Grace Moretz are all inside their wheelhouses here as a smartass lawyer with a good heart, a clever free spirit who needs a little time and a ballsy high schooler with some big emotions lingering beneath the surface. Together, they have plenty of chemistry, and working with an interesting script that's less concerned with big ideas than honest emotions, they're able to create something off-beat and unique. It's fitting for a movie set in Seattle, and the Blu-ray makes sure to hammer that home. The bonus features offer an entire special about filming in Seattle and plenty of talk about the city and how beautiful it is. Order your own copy of Lionsgate Home Entertainment's set here.
Other February 10 Blu-ray And DVD Releases
Alexander and the Terrible, No Good, Very Bad Day
Kill The Messenger
Rosewater
Nurse Jackie: Season Six
Olive Kitteridge
February 10 Early Digital Releases
The Little Princess
Horrible Bosses 2
February 17
Game Of Thrones: The Complete Fourth Season DVD
Based on the one of the best—if not the best—books in George R.R. Martin's A Song of Ice and Fire series, Game of Thrones Season 4 is a sweeping epic of a narrative, taking place in numerous locations and spotlighting numerous characters. Mostly, Game of Thrones: The Complete Fourth Season set is a continuation of the stories in the epic fantasy series, but it also memorably features the introduction of Pedro Pascal as Oberyn Martell, a tough Dornish Prince who ultimately returns to King's Landing in order to get into a tussle with Gregor Clegane. Arya Stark (Maisie Williams) spends much of the season traversing with the Hound (Rory McCann), while a wedding between Joffrey (Jack Gleeson) and Margaery (Natalie Dormer) occupies Cersei's (Lena Headey) thoughts. Across the sea, Daenerys (Emilia Clarke) is busy conquering, but her plans don't always go completely smoothly, and Jon Snow (Kit Harington) has his own battles to fight.
HBO Home Entertainment's DVD set is not too shabby. It's chock full of special features, including an entire feature explaining the special effects during the battle on the Wall. (If you were into the giants and mammoths at all, it's definitely worth checking out.) Deleted scenes and 11 in-depth commentaries are definitely appreciated, but the most fun feature is a round table with all of the characters who died during Season 4 talking about their origins on the show and the way they learned they would be killed off. (Hint: a shocking number of cast members haven't read the books). The DVD set is a great set, but if you have the chance to nab it on Blu-ray, the picture looks even better. Order your own copy, here.
Dumb and Dumber To Blu-ray
Dumber and Dumber To reunited Lloyd Christmas (Jim Carrey) and Harry Dunne (Jeff Daniels) for the first time in 20 years in 2014. The movie's premise is entirely based on all of that time apart, with Lloyd playing a long-term prank at the beginning of the movie and the two men going on an epic adventure to seek out Harry's long-lost daughter, Penny (Rachel Melvin). The flick itself is certainly true to the Farrelly Brothers' comedic sensibilities, with plenty of silly but clever jokes and site gags present throughout, but it also serves as a stark reminder of how comedy has change in the time since Dumb and Dumber first hit theaters in 1994. Universal Studios Home Entertainment has put together a standard comedy set for Dumb and Dumber 2, featuring deleted scenes (they are really mostly alternate scenes and a gag reel. Though the overall set isn't wholly impressive, there are enough laughs in the flick to make it worth a watch, if not a purchase.
The Theory Of Everything Blu-ray
The Theory Of Everything is, in a conventional sense, a biopic. It follows renowned scientist Stephen Hawking as he slowly loses control over his body and changes the world with his brilliant mind. It features a brilliant portrayal by actor Eddie Redmayne and a really admirable attention to detail. It lets viewers step into his world and understand how he ticks, but in other ways, it's so much more than just a standard biopic. It lets us spend time with his wife Jane and find out why she signed up for a rough journey. It also gracefully transitions between eras and doesn't sanitize any of the upsetting and unfaithful things Stephen and Jane have done. The Blu-ray release, packaged in one of the most visually appealing and interesting boxes I've ever seen, boasts a handful of features covering the performances, a commentary and the deleted scenes. As with everything else about this movie, it's all about the performances and "Becoming the Hawkings" should be consumed by fans immediately.
Birdman Blu-ray
Birdman has both its supporters and its detractors, and in a weird way, none of them are wrong. It's a brilliantly acted, creatively directed commentary on the acting business. It is unique, clever and unforgettable, a wonderful reminder of how brilliant Michael Keaton is and an exemplary vehicle for Edward Norton, Emma Stone and Naomi Watts. Then again, it's also pretentious, overly complicated and very inside baseball. It feels a little long, and not all of it works. It's an imperfect masterpiece that boasts some of the most spectacular Blu-ray box art I've ever seen. With bold writing, a front cover that opens and wonderful art, it's visually striking, and while the special features aren't as exhaustive as one would hope, they're none the less worth a look, especially the conversation with Michael Keaton and director Alejandro G Inarritu.
Other February 17 Blu-ray And DVD Releases
The Interview
St. Vincent
The Homesman
Doctor Who: Last Christmas
Life Itself
V/H/S: Viral
Dying of the Light
The Tale of The Princess Kaguya
Skating To New York
Easter Family Fun Pack DVD
February 17 Early Digital Releases
The Hunger Games: Mockingjay – Part 1
February 24
Big Hero 6 Blu-ray
Fresh off of an Oscar win for Best Animated Picture, Walt Disney Home Entertainment's Big Hero 6 is headed into homes. If you haven't caught the fresh animated flick, yet, by now you should be familiar with Beymax (Scott Adsit), the large, fluffy healthcare robot that has been adored by youth and adult fans alike. He's a creation of college student Tadashi (Daniel Henney), the older brother and frequent protector of Hiro (Ryan Potter), a whiz kid who also has a penchant for large-scale science projects. Eventually Hiro and Beymax team up with group of other science majors, who attempt to save the world. Based on a Marvel comic, Big Hero 6 isn't as charming as a lot Disney's other animated endeavors, but it is less princess-oriented than a lot of the brand's endeavors, and features a fun superhero team. Superheroes and squishy robots are plenty of reasons to purchase the set, but throw in deleted scenes, a segment explaining the change from comic to big screen endeavor. Speaking of Academy Awards, the 2015 Best Animated Short, "Feast," is also a Disney endeavor and is included on the Blu-ray. Talk about a winning disc.
Whiplash Blu-ray
Teacher-student relationships are often explored in film, frequently in the context of teachers helping students to become better. Whiplash, in a sense, is about a teacher honing a students craft, through fervent tempos, sweat and even a little blood. Beyond that, however, it's also about abuse and about how far is too far. Most of us, even musical prodigies, need to be pushed, but there is a line in which too much pushing can become counterproductive. JK Simmons' angry and brilliant teacher pushes Miles Teller's student to make himself into a better drummer than he ever thought possible. Unfortunately, he also pushes him to push away every single other thing in his life, creating a pressure cooker of progress and exhaustion. It's a fascinating dynamic to watch, and fortunately for fans, it's explored in-depth in the Blu-ray release, as well. The commentary with director Damien Chazelle and J.K. Simmons is especially enlightening, though hardcore fans will likely enjoy having access to the original short Whiplash was based on too.
Beyond The Lights Blu-ray
Gugu Mbatha-Raw has started to gain notice thanks to roles in Belle and now Beyond the Lights. The latest film from Secret Life of Bees director Gina Prince-Bythewood is a love story of sorts, but Beyond the Lights is also a film about breaking free and determining exactly who you want to be. Lights follows Noni (Mbathu-Raw), a pop singer with an overly sexualized image and an overbearing mother, Macy (Minnie Driver), who encourages her to continue on the path. Noni isn't totally sold on her life of fame and when she meets Kaz (Nate Parker), she begins to take steps to change. With plenty of ire from the record label and problems with the paparazzi, Beyond the Lights is occasionally tedious (but necessary to Noni's changing perspective), and the chemistry between Mbatha-Raw and Parker is noteworthy. Music is key to Beyond The Lights, and Twentieth Century Fox Home Entertainment's set comes with plenty of related goodies, including a music video. Fans who already caught the film in theaters can also give the director's cut a shot. Order Beyond The Lights, now.
February 24 Blu-ray And DVD Releases
Sons of Anarchy: The Final Season
2015 BCS National Championship Game
Horrible Bosses 2
Vanish
Dragonheart 3: The Sorcerer's Curse
Sofia The First: The Curse of Princess Ivy
Zooey To The Max DVD
The Intruders
Green Street Hooligans Underground
The Shift
Altar
Amazing Race & Top Chef superfan with a pinch of Disney fairy dust thrown in. If you've created a rom-com I've probably watched it.
Your Daily Blend of Entertainment News
Thank you for signing up to CinemaBlend. You will receive a verification email shortly.
There was a problem. Please refresh the page and try again.