New DVD Releases: January 2015 In Home Entertainment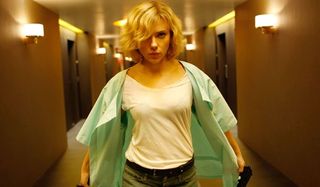 January isn't typically the biggest month for Blu-ray, DVD and streaming releases, but thanks to the glories of awards season and midseason premieres on television, there's quite a bit of good stuff popping up over the next several weeks, ranging from Nightcrawler to the latest season of HBO's Girls. If you want to know when your favorite movies are headed onto Blu-ray and DVD, as well as streaming services, this list is one to peruse. Check back each week for new reviews!
January 6
No Good Deed Blu-ray
Sony Pictures Home Entertainment's latest thriller may use a lot of basic tricks to set the mood in No Good Deed, but nothing can compete with Idris Elba's onscreen presence and Taraji P. Henson's ability to look wide-eyed and kick ass at the same time. The movie is about a stranger, Colin (Elba) who invades a woman named Terry's (Henson) home on a rainy night. While elements of the script could have been a little compelling, the movie looks great on Blu-ray, despite a nighttime setting and plenty of dark scenes. It's a little light on the bonus features with three featurettes "Making A Thriller", "The Thrill Of A Good Fight," and "Good Samaritan," but you can purchase the set here (opens in new tab).
Boyhood Blu-ray
Richard Linklater's latest movie, Boyhood, has been praised for its core concept—following a young boy who grows into a young man over a period of more than a decade, a monumental achievement considering Linklater and leads Ethan Hawke and Patricia Arquette had no idea if the kid actors would pan out as they started to deal with much tougher material. But Ellar Coltrane and Lorelei Linklater crush it, giving us a movie that reminds viewers of and sometimes adequately reflects our childhoods. Boyhood had a small release and didn't make it into a ton of theaters. That being said, IFC has put out a nice Blu-ray set that takes a fascinating look behind-the-scenes of the making of the movie. These aren't always the best segments, but with a movie that took 12 years to make, you'll learn how Linklater originally outlined the movie and how it changed as his cast changed and grew older. It's pretty great. You can grab the set for a great sale price here (opens in new tab).
Girls: The Complete Third Season DVD
The packaging for HBO Home Entertainment's comedies has routinely never been as spectacular as their dramas, likely because the comedies are a less lucrative enterprise. Plus, since there are no CGi'd dragons, it doesn't matter whether or not you watch the set in glorious HD picture. The DVD set for Girls: The Complete Third Season features Hannah (Lena Dunham), Marnie (Allison Williams), Shoshanna (Zosia Mamet) and Jessa (Jemima Kirke) as they go on a brand new set of misadventures that end up landing them back at square one by the end of the season. Which should set things up pretty nicely during Season 4, which hits the TV schedule this weekend. You can catch up with Girls via HBO Go or order the set over at Amazon (opens in new tab).
Other January 6 Blu-ray And DVD Releases
Archer (Vice): The Complete Fifth Season
Black Sails: The Complete First Season
Horns
Looking: The Complete First Season
Left Behind
Get On Up
Dinosaur 13
January 6 Early Digital Releases
No Good Deed
Laggies
The Newsroom, Season 3
The Scorpion King 4
Love Is Strange
January 13
Boardwalk Empire: The Complete Fifth Season DVD
HBO graciously gave Boardwalk Empire a shortened fifth season during which the show was able to wrap up its storyline. In order to do that Terence Winter and the gang shot ahead to 1931. While the time hopping is chunky and the episode count is shorter (8 total) than fans would like, Boardwalk Empire: The Complete Fifth Season capably wraps up HBO's Chicago, New York and Atlantic City-based drama in a manner that finishes up the stories of Nucky Thompson (Steve Buscemi), Eli Thompson(Shea Whigham), Al Capone (Stephen Graham), Nelson Van Alden (Michael Shannon) and the other colorful personalities on the show. With so many endings and some new beginnings, the show doesn't hold back on either the violence or strategy that captivated audiences through the episodes that came before. HBO Home Entertainment's set is slimmer than most HBO sets, and the big extra is "Scouting the Boardwalk," which looked at how the behind-the-scenes team made the 20th Century come to life on the small screen. HBO also tossed in a freebie: the first two episodes of the acclaimed Steven Soderbergh series The Knick.
Men, Women & Children Blu-ray
Director Jason Reitman's latest film Men, Women and Children takes a look at technology and consumption and the myriad of ways that our relationships are affected by modern-day communications. The story follows an ensemble cast and hops perspectives frequently, with certain characters' stories overlapping. Most compelling among these is Judy Greer's Donna Clint, a mother who developed a risqué website to post her daughter, Hannah's (Olivia Crocicchia), photos. Don and Helen Truby (Adam Sandler and Rosemarie DeWitt) are busy learning to use the internet as a tool to meet other people, missing out on the fact that their son Chris (Travis Tope) has a porn issue. The stories themselves are well-layered and intriguing, but they are set to a narrator (Emma Thompson) who is obsessed with discussing things on a grand scale. For a movie that tries to be grandiose, Paramount Home Entertainment's Blu-ray set scales down to just a few extras, including deleted scenes and two featurettes, "Virtual Intimacy" and "Seamless Interface." Men, Women & Children is worth a watch for its underlying statements about relationships, but it may be one to rent (opens in new tab).
Gone Girl Blu-ray
Gone Girl is a slow, crazy burn. It's a character study involving ridiculous people, and a carefully put together thriller that keeps audiences guessing. Perhaps more importantly, it's a book adaptation in all the best ways. It takes the general outline and sticks to it, but it changes portions of the material that are clearly problems. It's a master work by director David Fincher, and while it didn't net as many Oscar nominations as some would have hoped, it did snag a nomination for lead actress Rosamund Pike who crushes it as Amy, the title character and protagonist of the fictional series of children's books Amazing Amy. The Gone Girl set comes with a sample book from the series, as well as an army of special features. In all, it's the type of set you would expect from a movie that's so diligent, detail oriented and complicated.
January 13 Blu-ray And DVD Releases
The Twilight Saga: Extended Editions Twilight/New Moon/Eclipse Blu-ray
Jessabelle
The Scorpion King 4: Quest For Power
The Identical
The Two Faces Of January
Revenge of the Green Dragons
Love Is Strange
Rudderless DVD
Duck Dynasty: Before the Dynasty DVD
Middle of Nowhere DVD
Wetlands
January 13 Early Digital Releases
Ouija
Jessabelle
Bird People
January 20
Lucy Blu-ray
Lucy's a fast-paced action movie with less-than-modest intentions. Director Luc Besson loosely ties in solid action with the idea that the brain can't achieve more than 10% capacity. When a new drug enters Lucy's (Scarlett Johansson) system, the young woman begins experiencing enhanced powers, including telekinesis and mind-reading. She may not have much time, but Besson's sensory movie is sometimes nonsensical, but is more often fun and involving and is worth a first watch or a re-watch, depending on whether you caught the film during its initial release. Fans of Universal Studios Home Entertainment's film should find a smartly packaged Blu-ray set (opens in new tab).
Annabelle Blu-ray
Annabelle is the prequel to the hit horror flick The Conjuring. As such, there were high expectations going into the release of the Warner Bros. Film. Luckily, it has perhaps the world's creepiest horror prop going into the movie it its title character, Annabelle, a possessed doll who causes trouble for young mother Mia (Annabelle Wallis) and bookstore owner Evelyn (Alfre Woodard) who unite causes to take down the evil in the doll. There's nothing new about the setup or premise in the movie, but it certainly has its moments, and the doll itself should frighten sufficiently. Warner Bros. Home Entertainment's set is a perfect companion to The Conjuring, although the extras on the set are nothing to write home about. Eight deleted scenes comprise a big chunk of the bonus features, and a few short featurettes are also included. It's currently running as a bestseller on Amazon (opens in new tab) and you can nab the flick for a sale price.
The Boxtrolls Blu-ray
Laika has been putting together reasonably scary kids flicks like ParaNorman for the past several years. In 2014, the animation company embraced the weirdness even further with The Box Trolls, a family-friendly flick about an orphan named Eggs (Isaac Hempstead-Wright) who meets a snob named Winnie (Elle Fanning) and collectively use their oddball skill sets to save a group trolls named the Boxtrolls from the villainous Snatcher (Ben Kingsley), who wants to exterminate them. The likable thing about the stop-motion animation that Laika produces is that there is a lot going on in both the forefront and background in every scene, which gives kids and parents a lot to look at. Additionally, there are off-color jokes for the adults and plenty of fun gags for the kids, throughout. (If your child doesn't shout "jelly" in the car a few times on the way home, I'd be surprised.) Peppered with lovely featurettes that are more for the interested adults than the kiddos and feature commentary from Directors Graham Annable and Anthony Stacci, The Boxtrolls is a welcome addition to the Laika cannon, although I don't know if I'll dust this Universal Studios Home Entertainment set off (opens in new tab) and pop it in as often as I will ParaNorman.
Check out a sampling of the bonus features with this exclusive clip.
Other January 20 Blu-ray And DVD Releases
Little House On The Prairie: Season 4 Blu-ray
The Zero Theorem Life's A Breeze The Pirates
A Bet's A Bet DVD
January 20 Early Digital Releases
Dear White People
Dracula Untold
The Best Of Me
January 27
Fury Blu-ray
There have been plenty of World War II movies, but David Ayer's Fury is the first one that really puts us into the belly of the tank. It's a movie that reminds me a bit of Norman Mailer's classic novel The Naked and The Dead in that it is gutsy and filled with deeply detailed personalities that have been affected and change during the course of the war. Brad Pitt rocks a scar as Don "Wardaddy Collier," a soldier with a kind streak who bonds with newbie Norman "Machine" Ellison. The two are part of a tank crew that also includes Gordo (Michael Pena), Bible (Shia LeBouf), and Coon-Ass (Jon Bernthal). The movie is engaging but I wouldn't call it entertaining, rather, Fury is an unsentimental, swaggering movie that doesn't relent until the very end, after it's given us every ounce of courage from the soldiers that populate the pages of its script. It's an interesting movie, and Sony Pictures Home Entertainment's Blu-ray set is also worth a perusal, with a ton of deleted scenes (the press release says 50 minutes and it felt like an hour's worth of extra content that adds to the story) and a "Directors Combat Journal" featurette, which looks at Director David Ayers experience with the complications of shooting tank warfare and more. You get a lot with the R-rated set, and you can get it for a reasonable price right now (opens in new tab).
The Judge Blu-ray
Warner Bros. Home Entertainment's release is a big one this week, thanks to Robert Duvall earning nods at this year's awards ceremonies. David Dobkin's thoughtful movie The Judge gets a lot of things right about living off a one-lane highway in Indiana. Characters get stuck behind the occasional tractor and stick close to home, thanks to enjoying the comfort of a close-knit community. The movie itself follows the troubled Hank Palmer, a high-end defense attorney with plenty of personal troubles, who heads home for the first time in years after his mother unexpectedly dies. While at home, he's forced to confront the problems he has with the rest of his family, including brothers Glen and Dale (Vincent D' and his father, Judge Joseph Palmer (Duvall). A murder case takes a backseat to the family dynamics, but overall The Judge is a pleasant movie to plow through. The Judge Blu-ray set has plenty of extras, but none are standouts. Check out the deleted scenes and the "Inside The Judge" feature.
Other January 27 Blu-ray And DVD Releases
PBS Masterpiece: Downton Abbey: Season 5
Justice League: Throne Of Atlantis
Open Windows
Mas Negro Que La Noche DVD
Big Driver DVD
January 27 Early Digital Releases
Kill The Messenger
The Remaining
Low Down
This poll is no longer available.
Your Daily Blend of Entertainment News
Reality TV fan with a pinch of Disney fairy dust thrown in. Theme park junkie. If you've created a rom-com I've probably watched it.
Your Daily Blend of Entertainment News
Thank you for signing up to CinemaBlend. You will receive a verification email shortly.
There was a problem. Please refresh the page and try again.