Daft Punk Enters The Tron: Legacy Grid, Plus 90 Seconds From The Soundtrack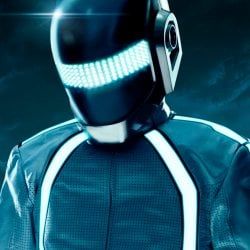 Just as I warned you yesterday, the publicity blitz for Tron: Legacy has begun in earnest, and today is the first official Tron Tuesday! Disney will be releasing new assets from the film every Tuesday from now until the film's release on December 17, and for today, the focus is all on Daft Punk. Everyone's favorite helmeted French electronica duo provided the film's soundtrack, as you already know, and their existing look is pretty much perfect for the world of Tron as envisioned by director Joe Kosinski. There's been speculation for years that the two would cameo in the film, and with the release of a new image featuring them on the Game Grid, that now seems all but a guarantee.
In addition to the image, they've also released 90 seconds from the film's score at the official Tron: Legacy Facebook page. It's kind of like what would happen if you put Hans Zimmer's Inception score through a computer-- and I mean that in a good way. I've been exposed to a decent amount of the Tron: Legacy score thanks to two years running of massive promotions at San Diego Comic Con, and this bit sounds pretty much like everything else-- intense, futuristic, but not taking itself so seriously that it feels absurd.
To top it all off, you can buy tickets for the Tron: Legacy IMAX preview starting at 10 a.m. PT today; more details about that are also at the Facebook page. Go over there to hear the song, check out the Daft Punk dudes below, and check back next week for the next installment of Tron Tuesday.
Your Daily Blend of Entertainment News
Staff Writer at CinemaBlend