Daniel Radcliffe's Original Harry Potter Audition Is Adorable And Precious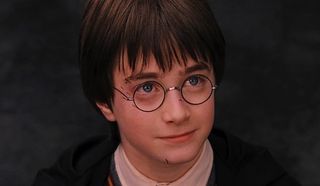 Now that he's all grown up and has been busying himself playing roles that have nothing to do with teenage wizardry, it's easy to forget that Daniel Radcliffe was just wee lad the first time we met him in Harry Potter and the Sorcerer's Stone in 2001. If you've become accustomed to adult Radcliffe and need a reminder of how adorable he was, take a moment to check out his original screen test for Harry Potter.
When the movies began appearing, J.K. Rowling's saga wasn't yet complete on paper, but Harry Potter mania was already a global force to be reckoned with. A key component to the movies was finding the right young actor to play the Boy Who Lived, and now, fourteen years and eight movies later, it's hard to think of the character and not picture Daniel Radcliffe. Though it was early, he was super young, and this is just an early read, watching this video you see many of the attributes he brought to the role.
The charm and precociousness that character possesses shine through. While that is important to make people relate to the young orphan wizard, and that likability is a big part of why so many fans followed him through all of his adventures, there's more than that going on, too. You get glimpses of the darker parts of his personality as well, of his traumatic past and the seriousness and grave responsibility that hangs over Harry, like when he talks about hearing the screams of his dead mother inside of his head.
Even before the last Harry Potter film wrapped, Radcliffe was taking great measures to ensure that he wasn't just a one-hit-wonder, and that he wouldn't be pigeonholed as an actor. In 2007, he appeared in a revival of Peter Schafer's 1973 Equus, where he bared it all on stage (sort of). When not playing Harry, he has appeared in a wide variety of movies, doing his level best to avoid being another child star who has one memorable role and then fades into obscurity.
Daniel Radcliffe has shown up in horror films like The Woman in Black, Horns, and Victor Frankenstein; played poet Allen Ginsberg in Kill Your Darlings; and had a memorable cameo in Amy Schumer's Trainwreck earlier this year. He even lent his voice to the animated Netflix series Bojack Horseman. And he shows no signs of slowing down, joining the cast of the magical heist ensemble Now You See Me 2 and playing a young Lee Atwater in the Karl Rove comedy Young Americans.
And all of that got its start with this one adorable audition tape.
Your Daily Blend of Entertainment News
Thank you for signing up to CinemaBlend. You will receive a verification email shortly.
There was a problem. Please refresh the page and try again.