Dating Book From The 50s Becoming A Movie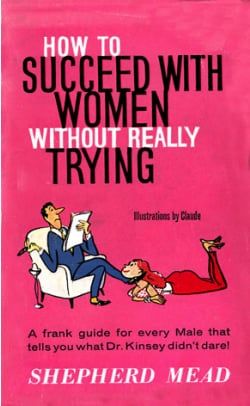 A book called How to Succeed With Women Without Really Trying: The Dastard's Guide to the Birds and Bees sounds like something that would have been published this decade, a novelty book like The Hipster Handbook or The Zombie Survival Guide that's sold at Urban Outfitters and given as gifts between people who you don't want to hang out with.
But as it turns out, How to Succeed With Women was published in 1957, as a satirical take on 1950s dating rules as well as the 1952 book How to Succeed in Business WIthout Really Trying. And regardless of how dated the movie might be at this point, now it's becoming a movie. THR reports that producer Grant Turck has optioned the book's rights, with screenwriters Dax Shelby and Robert Stevens working on the adaptation. Turck told THR, "In terms of tone, we're developing the film to have the feel of a modern Billy Wilder romantic comedy." Sounds good in theory, but there's a reason Billy Wilder's comedies are largely unmatched-- he was a genius, and the rest of us are not.
Your Daily Blend of Entertainment News
Staff Writer at CinemaBlend