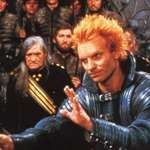 I don't know if this qualifies as movie news. I don't know what this qualifies as. But it does involve David Lynch and farm animals so there you go.
Lord knows I love David Lynch and eagerly look forward to Inland Empire anyone who makes idiosyncratic films in the age of Bruckheimer deserves your respect. But this just goes above and beyond the call of bizarre.
As anyone who reads my posts knows I'm usually not lost for words… But "Cheese comes from milk !?!?! What the hell does that even mean?
Damn man…. Just Damn….
Your Daily Blend of Entertainment News
Thank you for signing up to CinemaBlend. You will receive a verification email shortly.
There was a problem. Please refresh the page and try again.