Deadpool Comes Up With A Cool Way For Fans To Get Exclusive Content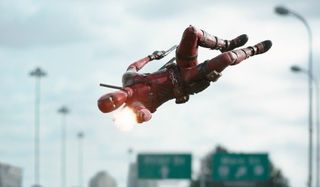 Anyone who has been paying attention to Deadpool's promotional campaign knows that they've been trying to do things a little differently. There has been plenty of innuendo, raunchy behaviour, and downright arrogance, all of which fits perfectly in with the character's history and personality from the comics. This idiosyncratic push shows no sign of abating, because Fox has now advised fans to sign up for exclusive content for the impending X-Men spin-off by giving one of the world's most famous posters a Deadpool tinge.
When you click over to Deadpoolcore.com you're asked to submit your email address before you're then told to wait vigilantly by your inbox for further updates regarding the Ryan Reynolds-led comic book flick. I'm going to guess that they will come in due course, but until then you can just marvel over the above poster that pretty much encompasses why fans are so excited about Deadpool.
Not only is the poster itself rustic and downtrodden, which is very much in keeping with Deadpool since its budget is only believed to be roughly half of what comic book movies are normally made for, but the arrogance, as well as the threat, of the character is prevalent, too.
There's hope that Deadpool could usher in an era of more mature comic book movies that don't have to try and placate to younger demographics. The debut of its trailer earlier this year, which was originally screened at the San Diego Comic-Con International before it hit mainstream audiences, was met with acclaim for its meta humor, voice, and the fact that it seemed to have a great blend of action and comedy. While it also helped that Ryan Reynolds, T.J. Miller, Ed Skrein, Morena Baccarin, and Gina Carano all looked cool as hell, too.
Of course, it's still way too early to be singing Deadpool's praises just yet, as the film itself isn't due out in February 12, 2016. But if it can achieve both critical and financial success when it finally does hit cinemas, it could be the catalyst for a wave of more adult-orientated superhero films and help to rejuvenate the genre, which, despite the continued box office success, could still benefit from some new blood.
Your Daily Blend of Entertainment News
Thank you for signing up to CinemaBlend. You will receive a verification email shortly.
There was a problem. Please refresh the page and try again.