Did Entourage Just Spoil A Major Scene From The Upcoming Movie?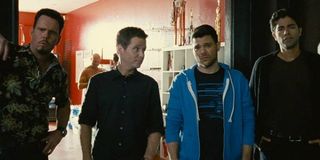 The cast of Entourage filmed several scenes for its upcoming movie on the Golden Globes red carpet on Sunday evening. This has immediately sparked rumors of how they could be incorporated into the comedy, with some even suggesting that these scenes could be the precursor to Adrian Grenier's Vince picking up a nice trophy in the film.
According to Hollywood Life, Adrian Grenier, Kevin Dillon, Kevin Connolly, Emmanuelle Chirqui, Jerry Ferrara and Jeremy Piven - each of whom were dressed impeccably for the sequence - turned up early to the Golden Globes to shoot a scene for the Entourage movie. In fact Connolly and Chiriqui, who portrayed Eric and Sloan in the HBO comedy, even took part in a fake interview with famed entertainment reporter Carson Daly while on the carpet too. And that's not all, because it has also been alleged that E! News co-host Terrence Jenkins also made an appearance during the guerrilla filming session..
But what does this shoot mean? Maybe Vince is finally getting the recognition from his peers that his work in titles like Head On, Queens Boulevard, Aquaman, Medellin, Gatsby and Ferrari didn't deliver? That's probably the most sensible guess. Hopefully he won't actually claim an award, though, as there is surely much more room for comedy in Turtle, Drama, Ari and E going ballistic at him being snubbed rather than celebrated.
From all accounts, Entourage's big screen adaptation will pick up immediately where the series concluded in September 2011 after 98 episodes aired over eight seasons. Jeremy Piven's Ari Gold has given Vincent Chase $100 million to make his directorial debut after deciding to build his own studio. Meanwhile, Vince will almost certainly be just as depraved as before, and the likes of Turtle, Drama and E will almost certainly be joining him in his drug-addled antics. This additional filming for Entourage movie comes just a few short weeks after the first trailer for the film was released, which suggests that the movie isn't quite done yet - but that's hardly surprising given its summer release date.
Judging from everything we've seen so far from the Entourage movie, I suppose it looks OK. I have to admit that I never found myself truly impressed withEntourage. Despite the cavalcade of talent that was involved in its production (Seinfeld alumni Larry Charles and Mark Wahlberg were each executive producers on the series), I always felt that it was always a bit too one-note comically, while its plots and season arcs were painstakingly predictable. That being said, there is every chance that the characters, setting and set-up could still lend itself nicely big screen adaptation. Its host of cameos, which includes the likes of Billy Bob Thornton, Mark Wahlberg, Alice Eve and Emily Ratajkowski, suggests that its script must have something about it. We'll find out when Entourage is released on June 5, 2015. Until then though I'm still very much on the fence.
Your Daily Blend of Entertainment News
Thank you for signing up to CinemaBlend. You will receive a verification email shortly.
There was a problem. Please refresh the page and try again.