Director Ingmar Bergman (1918 – 2007)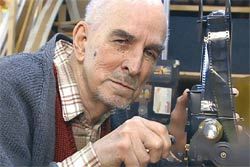 The journey through Ingmar Bergman's filmography is not one of lighthearted whimsy. For 89 years, the Swedish director wrestled with the relationship between Man and God. From the Knight playing a game of chess with Death to prolong his life in The Seventh Seal and a man on a journey through the annals of his youth just before death in Wild Strawberries to a child's perception of God in Fanny and Alexander, his films represented a life-long exploration of the meaning of existence. And after 89 years, Bergman may have finally gotten answers when he passed away today at his home on Faro Island in the Baltic Sea, Cissi Elwin.
There has been much written about Bergman and his work, and it's probably much better than any insight I could humbly impart to you, dear reader. Throughout his 54 films, 126 theatre productions and 39 radio plays, Bergman could cinematically display human emotions like no other director. You could feel the core of a character – your gut wrenches when Johan berates Marianne in Scenes from a Marriage and you're short of breath during Cries and Whispers.
Although his passing is sad and it's a loss that could never be replaced in film culture, it's a time of appreciation for all the masterful works that he gave us and everything we learned from his work. In that light here are 10 Bergman films that should not be missed.
-- The Seventh Seal
-- Scenes from a Marriage
-- Fanny and Alexander
-- Wild Strawberries
-- Persona
-- Cries and Whispers
-- Winter Light
-- The Virgin Springs
-- Autumn Sonata
-- Passion of Anna
Your Daily Blend of Entertainment News