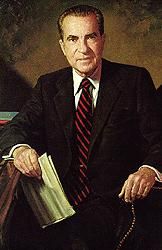 America's wrath at President Nixon has transcended the test of time. Not only did we hate him during the Vietnam War, we still hate him decades later during the Iraqi War. Or excuse me, the "war on terror."
According to Variety, Paramount Pictures is releasing a film called Dirty Tricks about the feminist movement during the Nixon administration. Meryl Streep will star as Martha, the whistle-blowing wife of Nixon chief John Mitchell. The story is about the Republicans resorting to dirty tricks to try and keep her quiet about the wrongdoings she discovered. Their sly attempts at censoring her were unsuccessful, although she did pay a very public price.
Joining the cast is Annette Bening playing White House correspondent Helen Thomas, Gwyneth Paltrow playing Maureen Dean, who (unlike Martha) stood by her husband as the scandal unfolded, and Jill Clayburgh as Pat Nixon. The movie will be written and directed by Ryan Murphy, the creator and executive producer of the hit F/X dramedy series "Nip/Tuck".
Dirty Tricks will shoot in 2006, produced by the company Plan B, minus an Aniston.
Your Daily Blend of Entertainment News
Thank you for signing up to CinemaBlend. You will receive a verification email shortly.
There was a problem. Please refresh the page and try again.