The Disgusting Way Kristen Bell Helped Prepare Dax Shepard For A Nude Scene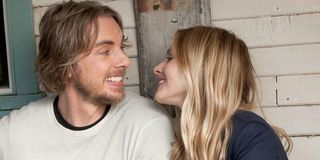 What have you done for your significant other recently? Was it something thoughtful and caring that you couldn't help but be a little smug about? Well, in comparison to what Kristen Bell did for her husband, Dax Shepard, it was basically a slap in the face. You can listen to his disturbing story below. It'll make you look at Kristen Bell in a whole new light that's for sure.
Yeah, that's right. Kristen Bell shaved Dax Shepard's ass. Now that's what I call love. Shepard, who described his nude scene in This Is Where I Leave You as "graphic," recalled his tragic story on Conan. It turns out that, despite his rather impressive physique, Dax Shepard was incredibly nervous about displaying his naked frame to the world. In fact, the actor even went as far as to say that it was a "nerve-racking" experience. Before the shoot, in order to combat the illness that he has, which he described as "tall white guy syndrome" and means that he doesn't actually have a butt, Shepard made the drastic decision to shave his buttocks.
Dax Shepard then went into intimate detail about how much hair he has on his behind. Not only do we now know that his actual cheeks don't have too much hair on them, but Shepard also went on to reveal that inside his buttocks it used to look as though a "werewolf [was] trying to escape." Wow. What an image. I actually prefer the description that Andy Richter, who is Conan's sidekick, provided. He stated that he had a "forest in the valley." Kudos, Richter. Kudos. Dax Shepard knew that he needed to go to town on the abundance of hair that he had on his backside. Unfortunately for him, and for his wife, he couldn't actually get to the area in order to trim it.
This is where Bell stood up to the plate to take one for the team. Dax Shepard admitted that most people "already don't understand why she's with him," and the fact that he asked her to excavate hair from inside his ass only adds more legitimacy to their concerns. However, despite the obvious horrors that she was confronted with, Kristen Bell took on her task like a professional. She then shaved his butt with an electric razor and, even though Dax Shepard admitted that it was a "terrible experience" for the both of them, their marriage is still just about intact.
However Dax Shepard did confirm that Kristen Bell had to sing Lipps Inc's "Funky Town" to get through the ordeal. That's adorable. We'd watch that. It's just a pity that she ended up shaving his ass for a role in a film that was ultimately incredibly average. Still, what doesn't kill you.
Here's the whole story:
This Is Where I Leave You is in theaters as we speak. You'll never look at it the same way again.
Your Daily Blend of Entertainment News