Divergent Casts Theo James As Love Interest, With Miles Teller And Aaron Eckhart Circling Other Roles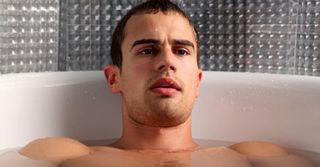 UPDATE: Miles Teller has confirmed his participation on Twitter. Still no word on which role he'll play though.
After looking at vaguely recognizable young hunks like Alex Pettyfer and Lucas Till, Summit Entertainment has finally settled on up-and-comer Theo James for the lead male role in Divergent, their upcoming young-adult novel adaptation. James, an English actor who put in a lot of bit work in the likes of Underworld: Awakening and even Downton Abbey, recently broke out as the star of CBS's new drama Golden Boy, playing the ambitious lead character Walter Clark.
In Divergent he'll play Four, one of the leaders of the "Dauntless" faction, which our heroine Beatrice (Shailene Woodley) joins once she's decided she no longer fits in with the faction she was born into. Like another wildly successful young adult adaptation produced by Summit's parent company Lionsgate, Divergent takes place in a dystopian future after the fall of society, in which teenagers are trained to be warriors and struggle to reshape the world for the better. Joining James in the head of the Dauntless faction will be Jai Courtney, who was cast yesterday.
In addition to Summit's official announcement of James joining the cast, Variety has word that three more actors are considering roles-- including Woodley's own Spectacular Now co-star Miles Teller, They have no details on which roles any of the three actors might play, but it's not hard to imagine either Stevenson or Eckhart as Woodley's character's father, and Teller as a fellow Dauntless fighter. Those who know the book better than I do ought to step in here and rescue me with some speculation of their own.
Divergent is coming to theaters on March 21, 2014-- a spot that Summit itself calls "The Hunger Games slot."
Staff Writer at CinemaBlend
Your Daily Blend of Entertainment News
Thank you for signing up to CinemaBlend. You will receive a verification email shortly.
There was a problem. Please refresh the page and try again.