The Divergent Series: Allegiant Trailer Shows Off The Other Side Of The Wall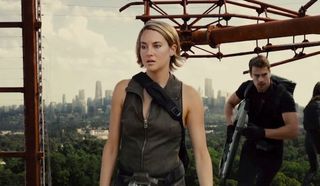 The Hunger Games may be over and done with, at least until Hollywood starts churning out proposed sequels, but there's still plenty of dystopian young adult action to keep you occupied. The 5th Wave hopes to make a splash at the box office this weekend, but later this year we'll get a new installment from another ongoing franchise, The Divergent Series: Allegiant, the first part in a two-film finale, and a new trailer just hit the airwaves.
Over the course of the saga, the world of the movies, adapted from the trilogy of novels by Veronica Roth, keeps opening wider and wider, and from the look of this trailer, things are changing in this post-apocalyptic setting like never before.
A key part of the narrative of The Divergent Series is the wall that surrounds a futuristic Chicago, keeping the last remnants of humanity safe and alive, and keeping, well, some mysterious threat on the other side. Allegiant, however, tears down that wall, and what heroine Tris Prior (Shailene Woodley), her hunky boyfriend Four (Theo James), and her other tattooed friends find on the other side is not what they expected at all.
I bet in their wildest dreams they didn't think they'd run into Jeff Daniels hanging out over there. But there he is, another in a long line of fantastic actors who appear in this saga. Out of all of the YA movies out there, The Divergent Series has consistently managed to put together an impressive array of actors.
After the huge revelations at the end of The Divergent Series: Insurgent—that the wall was really keeping them in, and that the whole faction sorting system they had was just an experiment—it's time to venture outside and see what's what. The action finds Tris, Four, and their pals experiencing a brave new world that none of them are prepared for, having never left the city where they were born. In this new environment, fraught will all manner of threats and mysteries, they must decide where their loyalties lie. Eventually a battle ignites that could destroy all of humanity, and Tris will have to make some tough choices about life, love, and many other things.
This installment looks to continue the striking visuals of the last two chapters—though while most of the crazy stuff was confined to dreams or those hallucinatory inner journey things, it looks like Allegiant ramps up things in the real world. They're cranking up the hard sci-fi vibe quite a bit here, with all kinds of futuristic crafts, those weird bubble things the characters float in, and more. If nothing else, this should be a spectacle to behold
The Divergent Series: Allegiant hits theaters opens March 18, and the saga wraps up with The Divergent Series: Ascendant next year on June 9, 2017. Now let's get to know the cast a little better.
Shailene Woodley
Though she's only 24-years-old, Shailene Woodley has already been acting professionally since 1999, though it wasn't until her role in 2011's The Descendants that she began to break through to a wider audience. Holding her own on screen with George Clooney, she earned a Golden Globe nomination. However, it's her role as Beatrice "Tris" Prior in The Divergent Series that has been her highest profile part to date, though, outside of that, she fills the time in smaller indie films and more left of center projects.
Theo James
Hunky Brit Theo James is set to return for The Divergent Series: Allegiant and reprise his role as the swoony love interest slash dreamy badass Tobias Eaton, though he goes the by the self-imposed moniker Four. He's appeared on TV in the likes of Downton Abbey, and though the Divergent movies are his biggest gigs to date, he's got a lot on his plate, including a return trip to the Underworld movies—he had a small part in the last one and will be back for the upcoming Underworld: Next Generation. And, of course, he'll show up in the final Divergent movie, Ascendant, next year.
Miles Teller
When you're putting together a cast of talented young actors on the rise these days, it's a no-brainer that you'll want to include Miles Teller on the call sheet. Sure, he fronted the disaster that was the most recent Fantastic Four, but his performances in the likes of The Spectacular Now and, especially, Whiplash, marked him as an actor we need to keep and eye on. He'll be back as the antagonist-turned-ally Peter, and you just know he'll have some smart ass quips to deliver in the first part of the final chapter of The Divergent Series.
Jeff Daniels
By far the biggest addition to the cast for The Divergent Series: Allegiant is Jeff Daniels. Any time you add an Emmy and Golden Globe winning actor to your film, it's a notable occasion. The 61-year-old plays David, who is the head of the Bureau of Genetic Welfare and, in the world outside of the walled-off Chicago, he represents Tris' greatest enemy. He was also in love with Tris' mother, played by Ashley Judd, and you just know that he has a personal vendetta that he's going to use to justify why a powerful older man might go to war with a teenage girl and a bunch of her friends. Daniels is just the latest acclaimed actor to join this saga, as Academy Award winner, and current nominee, Kate Winslet has already shown up to cause a ruckus.
Zoe Kravitz
The daughter of rock star Lenny Kravitz and actress Lisa Bonet, Zoe Kravitz has been carving out her own bit of stardom thanks to roles in movies like X-Men: First Class and Mad Max: Fury Road. In The Divergent Series, she plays Tris' bestest friend, Christina (What's a young adult heroine without a BFF?) and she reprises that role in Allegiant. Christina may not be the biggest part in the saga, but she serves a key grounding function.
Naomi Watts
Parents always complicate young love, at least in the movies, and Four's mom, Evelyn, played by Naomi Watts, is no exception. The leader of the Factionless, she used her son and his girlfriend as pawns to further her own plans and schemes. She didn't show up until the second movie, but looks to play an even bigger part in The Divergent Series moving forward, and you just know that her manipulative tendencies are sure to kick into overdrive now that the truth of what lies beyond the wall is out.
Your Daily Blend of Entertainment News