Fifty Shades Of Grey Includes A Scandalous Amount Of Sex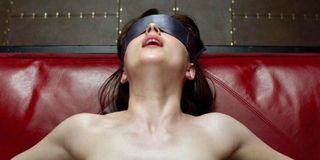 Just in case you didn't know, Fifty Shades Of Grey will include a lot of sex. How much sex? Well 20 minutes worth of sex to be precise. Which, when you consider the fact that Fifty Shades Of Grey has a running time of 100 minutes is a pretty hefty amount for one film.
According to the Sunday Times, one-fifth of Fifty Shades Of Grey will see Dakota Johnson and Jamie Dornan engaging in the no pants dance which really isn't that much of a surprise. E.L James' Fifty Shades Of Grey novel gained notoriety across the world because of its plethora of erotic scenes. These saw the characters of Christian and Ana engage in the likes of DSM, bondage and discipline with one another. If you are not sure what these acts consist of, I would ask your parents. I definitely wouldn't search on the internet for any information though. Otherwise your mind will also certainly be warped.
The trailers and clips for Fifty Shades Of Grey have also teased just how sensual and erotic the film will be. The latest of which premiered during the Super Bowl last night. If you haven't seen it yet, you can watch the clip below.
Unsurprisingly the creative team behind Fifty Shades Of Grey have looked to amp up just how much of an impact the books have already had on the world. It reminds viewers that the books have already sold over 100 million editions, as well as the fact that its trailer has now been viewed over 250 million times on YouTube. Plus they also speculate that these books have provoked a countless amount of fantasies which is probably a correct assumption.
Fifty Shades Of Grey is set to be a pop culture phenomenon. Each new release of the film's trailers has helped to steadily build up momentum ahead of it finally hitting multiplexes. In fact it's now widely believed that the first trailer for Fifty Shades Of Grey is the most watched trailer in movie history. But that's not all. According to Fandango, the ticket-selling website, Fifty Shades Of Grey is now the fastest selling R-rated film since the site was created 15 years ago. It managed to eclipse the likes of Sex and the City 2, The Hangover 2, The Hangover 3 and Gone Girl to claim this honor. Because of the huge demand and anticipation ahead of Fifty Shades Of Grey's release, theatre owners and cinemas decided to add even more dates and show-times for the film. In fact it's currently believed that Fifty Shades Of Grey will make as much as $60 million over its opening weekend. We'll see if that's the case when the film is released on February 13, 2015.
Your Daily Blend of Entertainment News