Dominic Cooper Replacing Clive Owen In Thriller Cities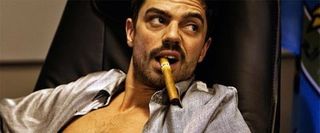 Dominic Cooper had a pretty good 2011, starring in the completely loony but powerful The Devil's Double, in which he played a dual role, and playing a pretty excellent Howard Stark in Captain America: The First Avenger, in a small but memorable part. He's also in My Week With Marilyn for about 10 minutes, but I won't hold that against him. And neither will the people behind what looks like his next movie, it seems-- Variety reports Cooper is set to replace Clive Owen in Cities an international thriller from The Bank Job director Roger Donaldson.
The cast that's already in place is also pretty impressive, including Orlando Bloom, Kirsten Dunst-- Elizabethtown reunion alert!-- and Slumdog Millionaire's Anil Kapoor. The film takes place before the financial crash, with stories taking place all over the world and presumably somehow tied in to finance. Cooper is a good bit younger than Owen, but since the role isn't specified we have to assume it's something age-neutral enough to swap the actors out. Owen had to drop out due to scheduling problems-- maybe for the Paul Schrader thriller Recall?-- but Cooper will have created some scheduling problems of his own, namely with the Albert Hughes drama Motor City, in which Cooper was supposed to star.
We're just glad we'll be seeing more of him, period-- Cooper hasn't yet had his breakout star role, but it seems inevitable, and the more interesting projects he takes on, the better. Cities sounds like an ensemble piece that won't necessarily feature Cooper above all, but it's at least a continued step in the right direction.
Staff Writer at CinemaBlend
Your Daily Blend of Entertainment News
Thank you for signing up to CinemaBlend. You will receive a verification email shortly.
There was a problem. Please refresh the page and try again.