Donald Glover For Spider-Man, On Twitter At Least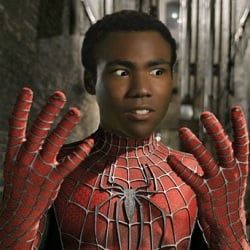 Sure, we all know who Sony is actually considering to play Spider-Man in the new reboot-- the list of five finalists includes a lot of usual suspect young white guys, and mysteriously, a 27-year-old in the running to play a high school Peter Parker. But wouldn't it be a lot more fun if they dared to cast someone talented, funny, and, er, black?
And we're not just talking some random guy, we're talking Donald Glover, the Community and Mystery Team star who has started a full-fledged campaign to land himself an audition on his Twitter account. Encouraging followers and friends (including me) to tweet the hashtag #Donald4SpiderMan, Glover managed to get his campaign on to the list of Twitter trending topics, and a handful of Facebook groups has popped up in support as well.
Will any of this be able to get Glover the job? Eh, probably not-- studios are unimaginative by default, especially when dealing with a humongous superhero reboot that needs to appeal to every audience imaginable. But would the new Spider-Man a better movie with someone as dynamic and talented as Glover in the lead? Don't answer until you've watched him krumping.
Staff Writer at CinemaBlend
Your Daily Blend of Entertainment News
Thank you for signing up to CinemaBlend. You will receive a verification email shortly.
There was a problem. Please refresh the page and try again.