Dracula Untold Poster Proves Legends Are Born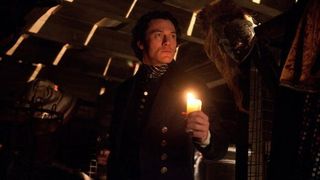 Above is your first look at Dracula Untold, the new horror epic slated for release this October. That's Luke Evans in the title role, wearing a pretty baller cape made of bats. Do the bats just link together? Does he buy them individually? And since they're flying away, is he even going to have a cape anymore? He's got armor, which means maybe he doesn't need a cape. Still, capes. Pretty cool. Chicks dig capes.
This tells the story of Vlad Dracula in his early days, before he became the iconic bloodsucking villain. Gary Shore is the first-time director holding this whole thing together, and with Legendary Pictures onboard as producer, they'll make sure this is a wide release that gets plenty of attention. Sarah Gadon, Dominic Cooper and Samantha Barks co-star. As well as bats. Capes of bats. Here's an official shot from the film, sans batcape.
Gary Shore has been a contender for several major studio directing gigs for awhile. The commercial director has gotten into several meetings for big budget material, and his aggressive tactics ended up being impossible to deny. He famously campaigned hard for the job helming The Wolverine, going above and beyond other contenders by putting together his own short to advertise his concept. Shore didn't get the gig obviously, but he put his work online for fans, and you can catch that below. Clearly he's got a very distinct visual style.
The real variable here is Luke Evans as a leading man. He remains untested as a lead attraction, though he's popped up in supporting roles in Fast And Furious 6, Immortals and The Hobbit series. Are audiences ready to buy him as a romantic leading man, particularly one classically known for being evil? The Legend Is Born reads the tagline, so ideally Universal wants this to be the beginning of a franchise, where audiences will follow Evans on his journey from heroic to monstrous. Evans is also attached to the upcoming The Crow reboot, so clearly someone wants to make him happen. Will the public? We'll see when Dracula Untold hits theaters October 17th.
Your Daily Blend of Entertainment News