Dumb And Dumber 3? Here's The Latest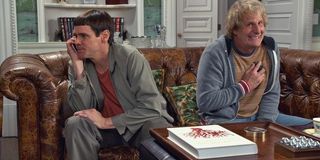 Jeff Daniels clearly had a great time re-teaming with Jim Carrey for Dumb And Dumber To because the actor has admitted that he would be game to sign up for Dumb And Dumber 3 instantly.
Jeff Daniels made the announcement at the premiere for Dumb And Dumber To on Monday night. After walking down the red-carpet with Jim Carrey in matching Tom Ford power blue and orange suits, Daniels was asked by Variety if he would ever consider returning for another addition to the comedy franchise. And his answer will have fans of the original salivating in anticipation once again.
Jeff Daniels wasn't the only one who teased that a third Dumb And Dumber film could already be in the pipeline. Peter Farrelly, who alongside his brother, Bobby, wrote and directed the original 1994 comedy and its sequel, also declared his interest in revisiting the characters at a later date too. However he did admit that a potential third film would only happen if Dumb And Dumber To is successful. Said the filmmaker,
The main problem – one would image – is Jim Carrey. It took a number of years to convince the beloved comedian to return for Dumb And Dumber To, and getting him to come back for a third instalment as Lloyd Christmas could prove to be impossible. In June 2012, just under a year after the Farrelly brothers had confirmed that they were planning on making a sequel to Dumb And Dumber, Carrey pulled out. This was because Warner Bros. had shown very little enthusiasm for the film, and he believed that it wouldn't be given a fair shot by the studio. This then forced Jeff Daniels to withdraw as well, as he would only return as long as Jim Carrey was involved. Ultimately, Warner Bros. decided not to proceed with the picture, and after a little bit of a legal dispute, Red Granite decided to finance the sequel with Universal Pictures distributing. And Jim Carrey found himself on board once again.
Reviews for the film have yet to fully materialize, but each of the trailers and clips for the follow-up indicate that once again Jeff Daniels and Jim Carrey are as delightfully stupid and ridiculous as before. Plus there are plenty of laughs in there that suggest it should be funny enough.
However it turns out you can't help but raise a smile when you see Jeff Daniels and Jim Carrey in the same shot together. And as long as Dumb And Dumber To is adequate then I'm all for another follow-up.
Your Daily Blend of Entertainment News