Eagle Eye Wants Your Phone Number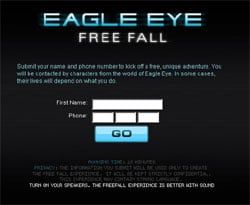 Paramount is running a cool, cloak and dagger viral game to promote Eagle Eye, and it must be pretty effective because I'm afraid to play it.
If you go to EagleEyeFreeFall.com, you'll see a form where you can enter your first name and phone number. Having seen the trailers for Eagle Eye, in which a man's personal data is stolen and used to ruin his life, I find myself paralyzed, and unable to actually enter my cell. They promise they won't do anything evil with your information, but I'm still terrified. Those of you with more bollocks than I have, click over there, play it, and tell me what happens.
Ok… nevermind. I broke down and gave them my information. They've taken over my computer! The password is Liar? Oh god the phone is ringing! Well, my neighbor's phone is ringing. They probably won't appreciate the mysterious and freaky call at 2 in the morning. I hope there's no heavy breathing. Hey, nobody gets my phone number, especially not you Shia LaBeouf.
Check out the site here, and either play the game yourself or take the coward's way like me and use it to freak out your friends with anonymous phone calls. It's all good fun. Meanwhile, below is a new clip from Eagle Eye. Bonus!
Your Daily Blend of Entertainment News