Is Emma Stone Interested In Playing Spider-Gwen?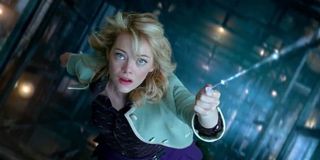 With Marvel and Sony Pictures newly working together on Spider-Man, opportunity to give the story new and different iterations than previous films has arisen. And while the next Spider-Man we'll see hit the screen will be a younger take on the Peter Parker we've grown used to, is there still a possibility to see a Spider-Gwen? Though Emma Stone is not sure of the reality of a female-centered Spider-Man movie, she could be interested.
Comic book movie fans grew to love Emma Stone in her role as Gwen Stacy during the short-lived Amazing Spider-Man franchise. In a franchise that got mixed reception, she always shone some positivity with her flawless portrayal. So, naturally if a Spider-Gwen movie were to ever come to fruition, Stone would ideally be the best candidate, and she doesn't seem to be ruling it out completely. In a recent interview with MTV News, Emma Stone and her Aloha co-star Bradley Cooper, discussed the possibility of Spider-Gwen. Stone said:
Stone seems hesitant to share too much interest, as she was trying to promote her latest film, Aloha with Bradley Cooper. But, she does admit that she has read up on the character, so it sounds like that idea has been played with. And it is certainly not out of the question in bringing to life. The one major benefit of doing a Spider-Gwen movie, is that it does not interfere with the Marvel Cinematic Universe. Spider-Gwen exists in an alternate universe, and since the MCU is rebooting Spider-Man to fit within their Avengers-centric system, Spider-Gwen could be a fun project to explore a female-lead super hero film, minus the necessary ties to any prior films.
Gwen Stacy, though one of the highlights of the Amazing Spider-Man series, primarily served as Peter Parker's love interest. Take that already successful character and place her into what could've been, or what is happening in that alternative universe.
Spider-Gwen is the same Gwen Stacy, but from an alternate universe where she was bitten by the radioactive spider instead of Peter Parker, creating a Spider-Woman. She's recently received her own solo comic book series, and her Spidey abilities are all pretty similar to the other Spider-Man iterations. The difference, most obviously is she's a badass female, a member of a band called the Mary Janes, and an avid spray painter. Spider-Gwen would be the perfect opportunity for Marvel to show off one of the awesome female characters they've created, and instead of watching her fall to her death, as she does in Amazing Spider-Man, we'd get to see her kick some serious ass. Oh and with Emma Stone on board, that'd be the ultimate formula for success.
Your Daily Blend of Entertainment News